Turkey: Banned Pride march must be allowed to take place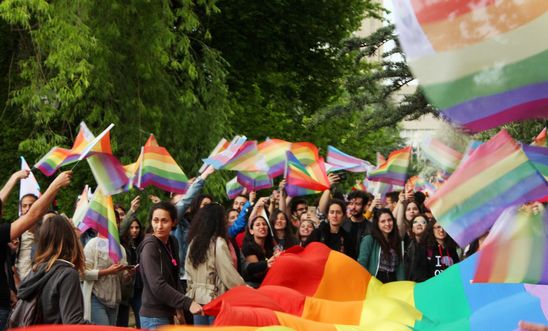 Pride celebration by students at the Middle East Technical University (METU) campus, in Ankara, Turkey, May 2018. © ODTU LGBTI+
Following news that the planned student Pride march at the Middle East Technical University (METU) will not be allowed to take place by the university's rectorate, Fotis Filippou, Amnesty International's Campaigns Director for Europe said:
"For the last eight years students at this university have marched through their campus to celebrate Pride and demand equality and dignity for LGBTI people. It is celebration of love which sends a message of hope to all those struggling to uphold fundamental rights in Turkey and beyond.
"Rather than banning Pride events, the university should be supporting and protecting such marches and challenging homophobia and transphobia. The Rectorate must reverse its decision and allow students without fear of intimidation or violence."
Background
The march was scheduled to take place on 10 May.
Turkish authorities must ensure that lesbian, gay, bisexual, transgender and intersex (LGBTI) individuals and their allies are able to enjoy their rights to freedom of expression and assembly without fear of intimidation or violence.
According to Ministry of Interior's response of 14 March 2019 to a formal information request by the lawyer of KAOS-GL, an LGBTI rights organisation, there is no general ban on LGBTI events in Ankara and each application is assessed individually. The general ban issued by Ankara Governor under the State of Emergency was lifted through a court decision on 21 February 2019.