Turkey: Amnesty staff accused of terrorism must be acquitted tomorrow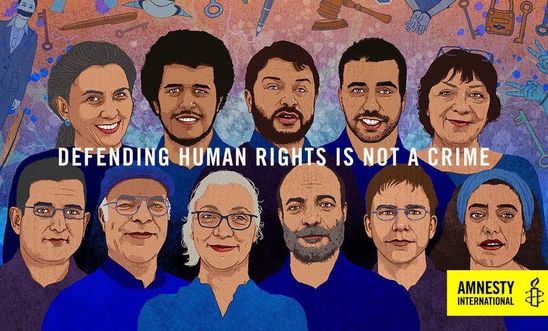 11 human rights activists back in court in Istanbul in long-running case seen as emblematic of ongoing crackdown
'Human rights defenders in Turkey spend their days either languishing in jail or living in constant fear of prosecution' - Kumi Naidoo
Almost two years after they were first arrested, two prominent figures from Amnesty International Turkey and nine other human rights defenders must be acquitted of the absurd charges they still face, Amnesty International said ahead of their trial which resumes tomorrow in Istanbul.
Taner Kılıç, Amnesty Turkey's Honorary Chair, and İdil Eser, Amnesty's former Turkey Director, are being tried alongside nine other activists on the baseless allegation of "membership of a terrorist organisation".
Kumi Naidoo, Amnesty International's Secretary General, said:
"After almost two years and without a shred of credible evidence presented to substantiate the absurd charges made against them, it is now time to end this judicial farce and acquit Taner and the Istanbul 10.

"Over the course of six trial hearings, the prosecutor's case against the human rights defenders has been comprehensively disproven. The court must now finally lift the threat of conviction that needlessly hangs over their heads and put an end to their ordeal.

"Taner and the Istanbul 10 have dedicated their lives to defending the rights of others and are potent symbols of what is happening under the government's relentless crackdown in Turkey today.

"Human rights defenders in Turkey spend their days either languishing in jail or living in constant fear of prosecution and imprisonment. The Istanbul 10 and Taner should be exonerated and all those jailed merely for defending human rights must be immediately and unconditionally released."
Taner Kılıç spent more than 14 months in prison before his release on bail last August. Eight of the Istanbul 10 spent almost four months each behind bars before they were bailed in October 2017.
An international delegation of senior Amnesty representatives from around the world is attending the hearing in Istanbul, including Amnesty's UK Director Kate Allen.
The hearing is scheduled to start at 6.30am (UK time) tomorrow at Istanbul Heavy Penal Court, No 35. For live updates from the court, follow @MilenaBuyum@andrewegardner and @KateAllenAI