Tunisia: new evidence of torture five years on from 'Jasmine Revolution'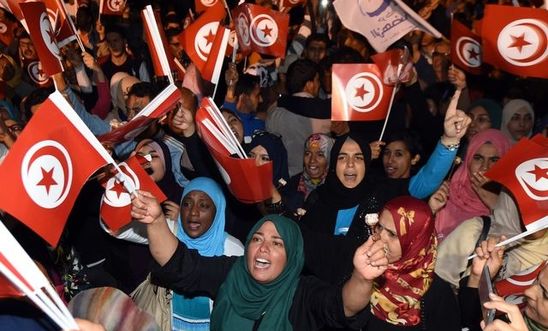 Peaceful elections have taken place in Tunisia but torture and repression are on the increase © FADEL SENNA/AFP/Getty Images
Thousands arrested under authoritarian new laws, with night-time raids and people questioned in street about their beards
One man said security agents break down doors to his family home almost every night
Worrying number of deaths in custody
New evidence of deaths in custody and torture suggests that brutal repression is on the rise again in Tunisia five years after the toppling of the previous authoritarian government (on 14 January 2011) by the "Jasmine Revolution", a move which sparked a wave of uprisings across the Middle East and North Africa. 
During a visit in December, Amnesty International obtained information about deaths in police custody as well as allegations of torture during police interrogations. There have been at least six deaths in custody since 2011 in circumstances that have not been effectively investigated or where investigations have not resulted in criminal prosecutions. 
According to testimonies gathered by Amnesty, some detainees have been subjected to electric shocks, including on the genitals, and a stress position known as the "roasted chicken" where their hands and feet are cuffed to a stick. Some were also slapped, forced to undress and threats were made against their families to force them to sign false confessions. Amnesty is calling for all these allegations to be independently investigated, with the findings made public, and for anyone against whom there is sufficient admissible evidence to be prosecuted. In the case of deaths in custody, the investigation must include an adequate autopsy by an independent and impartial forensic pathologist. 
Meanwhile, authoritarian new laws and a wave of night-time raids and harassment of people because of their religious beliefs and practices have added to a growing crackdown in the country (see below).
Amnesty International Middle East and North Africa Deputy Director Said Boumedouha said:
"Five years ago Tunisians rose up and threw off the shackles of authoritarianism. Torture and repression were hallmarks of former President Ben-Ali's regime; they must not be allowed to become defining features of post-uprising Tunisia.

 

"While it is understandable that security is a priority for the government in light of the bloody attacks that have shaken Tunisia in the past 12 months, it cannot be used as a pretext for a u-turn on the modest human rights progress achieved since the uprising.

 

"There is a real risk that this ill-conceived backlash will lead Tunisia back to the dark point it was at five years ago."
Thousands arrested under authoritarian new laws
A new counter-terrorism law adopted by Tunisia's parliament last July defines terrorism in overly-broad terms, giving the security forces wide-ranging monitoring and surveillance powers, while extending the period during which they can hold suspects incommunicado from six to 15 days, significantly increasing the risk of torture. In November, a state of emergency was declared for the second time last year after a deadly attack against Presidential Guards in Tunis. Under its auspices, the authorities conducted thousands of raids and arrests and held hundreds more under house arrest. 
Family members of wanted terrorism suspects have told Amnesty about continuous harassment by the security forces. One 65-year-old man whose son is a fugitive wanted on terrorism accusations, said that security agents break down the doors to his family home almost every night. He described how frightening the visits are for the occupants who include his other two sons, one of whom has a mental disability, and two young grandchildren. He added that family members have been repeatedly called for questioning and that both his other sons have been beaten by police during interrogations. 
Several people also gave accounts of being stopped repeatedly in the street by officers. One man described how he had been questioned or arrested on a number of occasions because of his beard. He said he had once been removed from a bus and was questioned about his religious beliefs and practices. 
Laws arbitrarily restricting freedom of expression remain in force in Tunisia and critics - particularly critics of the security forces - are prosecuted on charges of defamation and "indecency". Meanwhile, independent media reporting has been curtailed under the new anti-terror legislation. Journalists have also faced violent responses from security officers when covering protests or the aftermath of attacks. In November, Tunisia's Ministry of Justice issued a statement warning that journalists would face prosecution if they undermined the country's efforts to combat terrorism. 
Death in custody of Sofiene Dridi
Sofiene Dridi was arrested at Tunis airport on 11 September last year after being deported from Switzerland in relation to an arrest warrant on charges of violent assault from 2011. Dridi appeared in court on 15 September in good health and was transferred to Mornaguia prison after the hearing. On 18 September his family were informed that he'd been taken to hospital - when they went to visit him medical staff denied knowing anything. When the family went back to the court to obtain more information they were told he'd died of a cardiac arrest. However, when they saw his body in the morgue the family say there were bruises on his face and body. Dridi's death certificate was dated 17 September. To date the family are still awaiting full details about what caused his death. 
Limited progress five years on
In 2011, Amnesty highlighted priority areas of reform needed in Tunisia - today, these key reforms remain largely unmet. 
In the past five years Tunisians have adopted a new constitution containing important human rights guarantees, ratified key international human rights treaties, held democratic presidential and parliamentary elections, and seen civil society groups strengthen after years of repression under Ben Ali. 
However, repressive laws remain unchanged and enable continuing violations. There has been little accountability for unlawful killings of protesters in response to the 2011 uprising, and an ongoing failure to reform the police and security apparatus. As a result, torture continues to be reported, especially in pre-trial detention and during interrogations, and judges and prosecutors have done little to hold the authorities to account over torture and assaults on demonstrators and journalists. Transitional justice efforts have been slow and flawed. Meanwhile, discrimination in law and practice against women and girls continues and the authorities fail to protect effectively against gender-based violence. Lesbian, gay, bisexual, transgender and intersex people are still being denied basic human rights.