Trump tour: 100 'Statues of Liberty' to greet US President in Brussels today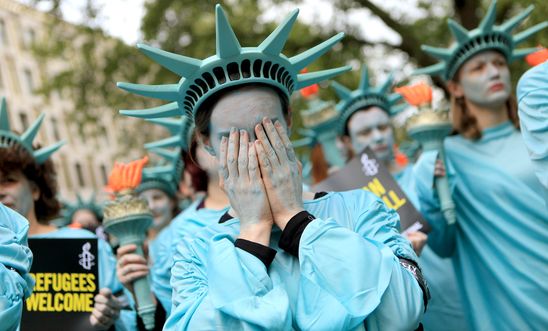 100 'Statues of Liberty' marking 100 days of Trump's presidency outside the US Embassy in London last month © Marie-Anne Ventoura
One hundred "Statues of Liberty" will "greet" the US President Donald Trump at Gare du Nord station in Brussels later today to protest against his discriminatory policies. 
With Mr Trump due in Belgium later today during the latest leg of his first foreign tour, the stunt has been arranged by Amnesty International, with the 100 statues symbolising the values of providing safety to refugees and safeguarding minority rights - values which have come under sustained threat during the president's four months in office.
Amnesty has been strongly critical of several measures from the new US government - including the multi-country travel ban affecting Muslim majority countries ("discriminatory and unlawful"), the 120-day halt to its refugee resettlement programme ("malicious and divisive"), plans for a wall on the Mexican border ("a dangerous move"), and the complete halt to funding for global NGOs that provide abortion advice or referrals ("a devastating blow for women's rights").
Iverna McGowan, Director of the Amnesty International's European Institutions Office, said:
"From the travel ban, to attacks on women's rights, to the planned Mexican border wall, President Trump has overseen an onslaught of hateful and divisive policies. 

"We will be out in force to send a clear message that we reject his policies of hatred and fear.

"EU leaders must be equally firm in their rejection of these attacks on people's rights." 
The protest, which will mobilise a wide spectrum of civil society, will take place the night before President Trump meets EU and member state leaders, and attends a meeting of NATO leaders.
When: 5pm, Wednesday 24 May 2017
Where: Gare du Nord, rue du Progrès, 76 à 1030 Schaerbeek, Brussels
Press Point: in front of the "Exki" on boulevard Simon Bolivar 7-9, 1030, Brussels
London 100 days stunt
Last month, Amnesty activists staged a 100-statue stunt outside the US Embassy in London to mark the 100 days of Donald Trump's presidency. Having filed solemnly into Grosvenor Square in central London, the 100 activists heard a formal recitation of the "New Colossus" poem featuring the famous "Give me your tired, your poor / Your huddles masses" phrase before being seen to silently weep over the policies of the new US president.