Trans identity treated as mental illness by NHS in Northern Ireland - activist warns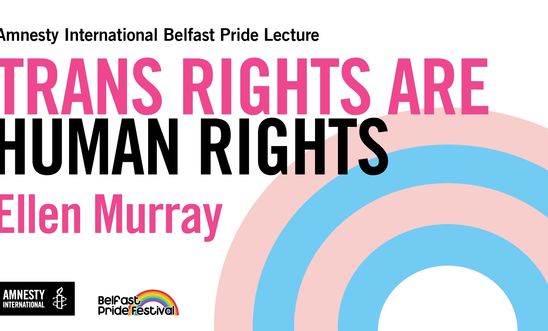 Speaking at the Amnesty Pride Lecture, trans rights campaigner says adult healthcare services in Northern Ireland have not taken new patients in more than a year
"Treatment of trans identity as a mental health condition is harming people" – Ellen Murray
A leading trans rights activist is warning that Northern Ireland's healthcare system treats trans people as if they have a mental illness, has a spiralling waiting list of people awaiting treatment and has not taken on any new patients in more than a year.
Ellen Murray, Executive Director of Transgender NI, will make the claims when she delivers the Amnesty International Belfast Pride annual lecture in the city tonight (Tuesday).
She says that the healthcare system is badly failing trans people, and continues to treat them as if they are suffering from a mental health condition.
Ellen Murray will tell the audience in Belfast this evening:
"Healthcare services for trans people in the UK and Ireland developed during the criminalisation of homosexuality, where trans identity was seen as a serious mental illness, and was treated with forced electroshock therapy and institutionalisation.

"The healthcare services we see today are an echo of that dark past, and their invasive assessments, insistence on conformity to gender stereotypes and the continued treatment of trans identity as a mental health condition harms our communities, young and old.

"Waiting lists have spiraled over the past number of years, and the adult service in Northern Ireland hasn't taken new patients in over a year. What we've seen this turn into on the ground is trans people being forced into expensive private healthcare and unregulated self-medication out of desperation, and has an enormous toll on the mental health of trans community members here.

"Lives are put on hold, dreams are set aside, and suffering is let to fester because of an expensive and inefficient healthcare system based on the model that puts more emphasis on preventing transition for the wrong reason than actually promoting the rights of the community that needs it most."
Patrick Corrigan, Northern Ireland director of Amnesty International, said:
"From name-calling and bullying, to vilification in the media, to being denied a job or appropriate healthcare, the range of unequal treatment faced by trans people is extensive and damaging. This has to change.

"Amnesty International is committed to stand up for LGBTI rights and to end discrimination. This is why we are campaigning in solidarity with the trans population here and calling for changes to the law and policy to ensure the rights of individuals who identify as trans are fully respected.

"As a society, we recognise that this is a new issue for many people. We have a duty to better understand trans issues, to listen to trans people and to uphold their rights so everyone can live their lives in dignity. That is why we have chosen to highlight trans rights in our Belfast Pride lecture this year and we are delighted to have Ellen Murray as our speaker."