Top writers call on youngsters to 'pick up a pen' over the festive period and enter Amnesty's Youth Awards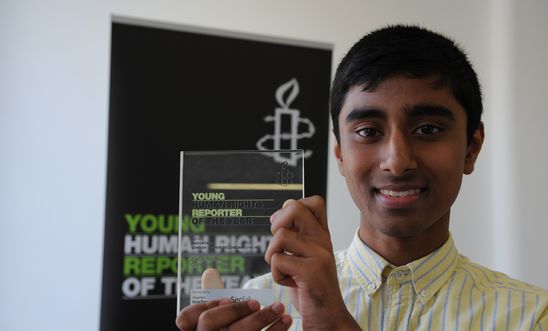 Zaahid winner of the 2013 Young Human Rights Reporter Award
Two award-winning authors and a globally-acclaimed playwright joined forces today to call on Britain's youngsters to pick up a pen over the holiday period and enter Amnesty's inaugural Youth Awards.
Sita Brahmachari, who won the Waterstone's Children's Book award for her book Artichoke Hearts, and Christie Watson, who won the prestigious Costa First Novel award for her book Tiny Sunbirds Far Away, have both been confirmed as judges for the reporting strand of the Awards.
Meanwhile, Tom Stoppard, famed for his plays such as Rosencratz and Guildenstern Are Dead, The Real Thing and The Invention of Love, has also lent his support to the Awards.
Sita Brahmachari said:
"Amnesty's award offers the prospect of discovering a whole new generation of inspirational journalists, writers and activists.
"Who has not been humbled and inspired by the figure of the young woman Malala on the world stage? How many other young human rights reporters are out there waiting to speak up on subjects they feel impassioned about? They, like Malala, have the potential to fight injustice and inequality through the power of the word.
"I am honoured to have been invited to be part of the Awards in the company of these young emerging voices."          
Christie Watson added:
"I am delighted to be asked to be a judge for Amnesty's Youth Awards. Throughout my life I have always cherished the power of the written word. It has such potential to both change and inform the world.
"If this competition can help encourage more young people to pick up the pen or start typing away then that can only be better for everyone. And on a personal level I am already looking forward to reading the entries."
Sir Tom Stoppard added:
"Art can change things in the longer term but, if you want to change the world in the short term, journalism is the most effective weapon."
Niall Couper, Head of Media for Amnesty UK, said:
"Journalism plays a fundamental role in helping exposes human rights abuses and we hope that this competition will help encourage the journalists of tomorrow to take up that mantle."