Theresa May should 'show some backbone' over human rights during Saudi Crown Prince's visit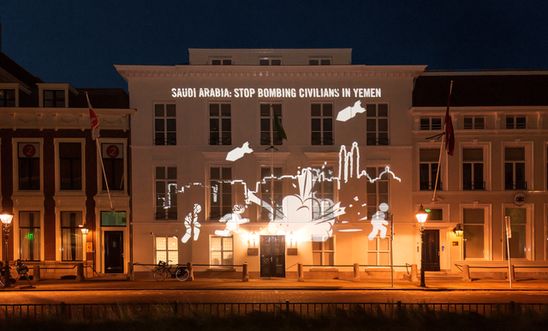 An Amnesty projection on the Saudi Arabia Embassy in The Hague, The Netherlands in 2016 © Amnesty International
Mohammad bin Salman's trip to UK comes after much-touted reforms in Kingdom
Ahead of the visit to the UK next week of Saudi Arabia's Crown Prince, Mohammad bin Salman, Amnesty International UK's Director, Kate Allen, said:
"This visit is an opportunity for the UK to finally show some backbone over human rights when it comes to Saudi Arabia.

"Time and time again, UK ministers have turned a blind eye to Saudi Arabia's atrocious human rights record - barely mentioning the country's crackdown on peaceful opposition figures, or the alarming prevalence of torture, unfair trials and grisly executions.

"Ahead of Mohammad bin Salman's visit, Theresa May must finally do the right thing over UK arms sales - suspending all arms exports to Saudi Arabia while there's any risk they'll be used by the Saudi-led coalition to bomb civilians or enforce the crippling blockade in Yemen."
Saudi Arabia's extremely poor human rights record, includes:
Systematic repression
For the past three to four years - both before and after Mohammed bin Salman's rise to power - Amnesty has documented a new pattern of systematic repression by the Saudi authorities in which virtually all independent human rights activists and critics have been silenced. Many have been sentenced to lengthy prison terms, while others have been forced to flee the country. The online commentator Raif Badawi remains in jail.
Counter-terrorism laws been used to prosecute human rights activists on vague and overly-broad charges for their peaceful activism. The notorious Specialised Criminal Court, set up to try alleged security and terrorism-related offences, has sentenced several human rights activists to up to 15 years in prison in flagrantly unfair trials. 
Large number of executions
In 2016 (the last year for which figures are available), Saudi Arabia executed at least 154 people, the third-highest number - behind China and Iran - recorded by Amnesty in its global report on the death penalty.  Saudi courts impose death sentences for a range of crimes, including drug offences or for conduct that under international standards should not even be criminalised, such as "sorcery" and "adultery". 
Since 2013, Amnesty has documented a worrying increase in the use of capital punishment as a weapon to crush dissent in the country, including the cases of at least 33 members of Saudi Arabia's Shi'a Muslim community who face the death penalty. Among them are Ali al-Nimr, Abdullah al-Zaher, Dawood al-Marhoon and Abdulkareem al-Hawaj, four young men who were found guilty of security-related offences related to their involvement in anti-government protests committed when they were under the age of 18. All four young men claimed they were tortured to "confess". They are all at imminent risk of execution. 
Women suffering systematic discrimination 
Despite recent high-profile reforms including an announcement that the ban on women drivers will be lifted later this year, women and girls in Saudi Arabia still face systematic discrimination in law and practice. Women are required to gain permission from a male guardian - their father, husband, brother or son - to enrol in higher education, seek employment, travel or marry. They also remained inadequately protected against sexual and other forms of violence.
Torture of detainees
The torture or other ill-treatment of detainees is widespread in Saudi Arabia, and courts frequently convict people and uphold death sentences on the basis of contested pre-trial "confessions". The security officials torture or otherwise ill-treat detainees with complete impunity.
Atrocities in Yemen 
During the past three years, thousands of Yemeni civilians have been killed and injured in numerous airstrikes carried out by the Saudi Arabia-led military coalition in the country, a military campaign reportedly spearheaded by Mohammad bin Salman. The airstrikes have struck homes, hospitals, funeral halls, schools and factories, with a repeated pattern of the attacks being carried out in a reckless and indiscriminate fashion. Nevertheless, and despite an obligation to refrain from arms exports that risk leading to breaches of international humanitarian law, the UK has sold in excess of £4bn worth of arms to Saudi Arabia during the period of the conflict in Yemen. 
For more information on Saudi Arabia's human rights record, go here.