'Theresa May drinks tea outside Downing Street while ignoring torture' - elevenses stunt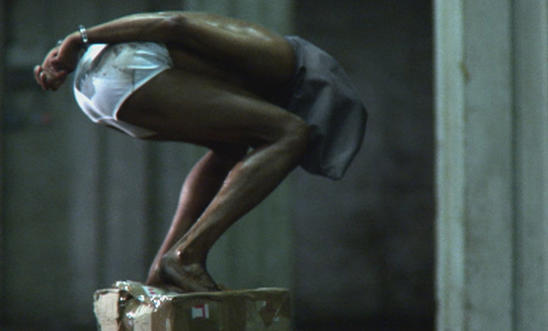 Still from an Amnesty campaign film recreating a 'stress' position © Amnesty International
Activist in Theresa May mask will be shown ignoring three torture 'victims' in stunt highlighting campaigners' call for inquiry into UK's involvement in torture 
27,000-signature petition to be handed in to Downing Street, Amnesty UK Director Kate Allen available for interview
Theresa May will be shown drinking tea while apparently ignoring torture victims outside Downing Street on Monday 6 August at 11am.
The "elevenses" stunt comes after the parliamentary Intelligence and Security Committee (ISC) published reports on the UK's involvement in numerous cases of rendition and torture, and is part of a call from several human rights organisations and torture victims for an independent, judge-led inquiry into the UK's involvement in the torture of detainees overseas.
Following the ISC's reports at the end of June, the Government said it would issue its formal response within 60 days, meaning a decision is expected by the end of August. The prominent Conservative MP David Davis recently added his voice to cross-party calls for an inquiry.  
In a very theatrical stunt, the Theresa May figure - an Amnesty International activist in a Mrs May mask - will be seated on garden furniture on a synthetic-grass lawn set up across the road from the gates of Downing Street. She will be shown drinking tea from an ornate teapot while repeatedly failing to notice three black-hooded and bound individuals just feet away from her who apparently bear marks of torture - bloodied and bruised faces, and torn clothes.
The "torture victims" - Amnesty activists in make-up - will strive to gain the PM's attention during the stunt, but the Theresa May figure will remain unmoved throughout.
Two of the "torture victims" will hold placards with the messages "Don't turn a blind eye to torture" and "Torture inquiry now" behind Mrs May. Again, she will be shown theatrically ignoring the placards.  
The stunt will conclude with the three torture victims chanting "Don't turn a blind eye to torture" and "Torture inquiry now". 
Immediately after the stunt, Amnesty, Reprieve, Liberty and Freedom from Torture will hand a 27,000-strong petition into 10 Downing Street with a formal call for a torture inquiry. 
What: elevenses stunt - 'Theresa May drinks tea while ignoring torture victims'
When: Monday 6 August 2018 at 11.00am (likely to last approximately 10 minutes)
Where: near gates of Downing Street, London SW1A 2AA
Who: Amnesty activists, including Amnesty UK Director Kate Allen
At the conclusion of the stunt, a delegation - consisting of Kate Allen, Simone Abel (Reprieve), Sam Grant (Liberty) and Sonya Sceats (Freedom from Torture) - will take the Amnesty petition to the door of 10 Downing Street.