Taiwan's same-sex marriage ruling is 'huge step forward' for LGBTI rights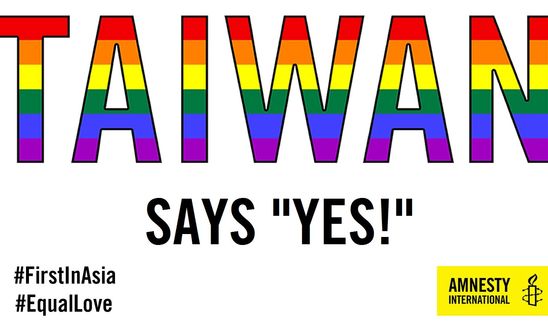 'Lawmakers must act swiftly to ensure Taiwan becomes the first in Asia to make genuine marriage equality a reality' - Lisa Tassi
Amnesty International has welcomed a landmark ruling by Taiwan's highest court today which takes Taiwan closer to becoming the first country in Asia to legalise same-sex marriage.
Earlier today, judges in Taiwan's Constitutional Court ruled that the country's current marriage law is unconstitutional as it discriminates against same-sex couples. The judges have given lawmakers two years to amend or enact relevant laws.
A draft bill on same-sex marriage is currently being considered by Taiwan's legislature. Amnesty is urging Taiwanese lawmakers to legalise same-sex marriage, placing same-sex couples on the same basis and with the same rights as marriage between couples of different sex.
Last month, Amnesty activists from more than 40 countries sent messages of support urging Taiwan to "say yes" to marriage equality.
Lisa Tassi, East Asia Campaigns Director at Amnesty International, said:
"The judges have today said yes to marriage equality. This is a huge step forward for LGBTI rights in Taiwan and will resonate across Asia.

"Lawmakers must act swiftly to ensure Taiwan becomes the first in Asia to make genuine marriage equality a reality.

"As today's ruling makes clear, whoever you love, everyone is entitled to the same human rights and equal protection under the law.

"Amnesty International activists across the world will continue to urge Taiwan's government to say yes to equality."