Syrian government must allow 529 sick and injured civilians out of Eastern Ghouta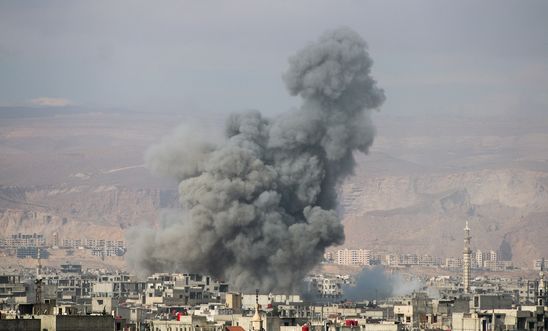 Eastern Ghouta has been heavily bombarded, including with Soviet-era cluster munitions © Getty Images
'The Syrian government is cynically using these seriously injured and ill people as bargaining chips' - Kristyan Benedict
Amnesty International is calling on the Syrian government to allow the urgent medical evacuation of more than 500 sick and injured civilians from the besieged Eastern Ghouta area near Damascus. 
According to medical personnel in Eastern Ghouta, some 529 patients require urgent treatment for their injuries or diseases, treatment that is unavailable in the enclave.
Doctors and medical workers in Eastern Ghouta say they're unable to provide adequate medical care because of a lack of adequate surgical supplies, medical equipment and medicine, particularly for chronic diseases such as cancer, heart disease and diabetes.
On 27 December, the Syrian government approved the medical evacuation of 29 of the most critical Eastern Ghouta patients, a process that was completed two days later. Seventeen children, six women and six men were transferred to hospitals in Damascus, where they're currently being treated. Reports indicate that this small number of evacuations was only agreed after negotiations that led to the release of individuals held by armed opposition groups.
In total, the medical evacuation of 572 people has been pending approval from the Syrian government since last July, and medical personnel in Eastern Ghouta say that so far 14 people have died while waiting for transfer out.
Amnesty has issued an "Urgent Action" campaign alert for the 529, with the organisation's supporters contacting Syrian and Russian government officials.  
Kristyan Benedict, Amnesty International UK's Syrian Campaign Manager, said:
"With the utmost brutality, the Syrian government is cynically using these seriously injured and ill people as bargaining chips.

"We appeal to the authorities in Damascus to observe the basic principles of international humanitarian law and allow these people out of Eastern Ghouta.

"These are sick and injured civilians - they should be in hospital, not trapped in the increasingly hellish conditions of Eastern Ghouta." 
400,000 under siege
Eastern Ghouta, an area near Damascus home to around 400,000 civilians, has been under siege from Syrian government forces for several years. Last February, smuggling tunnels that had guaranteed a minimum flow of food, water and medical supplies to the area were sealed up by government forces. Meanwhile, on 3 October, the Syrian government further tightened its siege by closing the last remaining entry point, the al-Wafideen checkpoint, impeding access to medical and humanitarian aid and barring civilian movement. Only two aid convoys have been allowed in since, and all medical supplies were removed by the government. Since then, Eastern Ghouta's humanitarian situation has deteriorated significantly, with prices of medicine and basic food supplies skyrocketing.
'War crimes on an epic scale'
In November, Amnesty accused Syrian government forces of committing war crimes "on an epic scale" in Eastern Ghouta. Amnesty's research showed that these forces had been using banned Soviet-era cluster munitions to carry out indiscriminate attacks on civilians.