Syria: reported chlorine attack in Aleppo sign of Assad's 'intensified' use of chemical weapons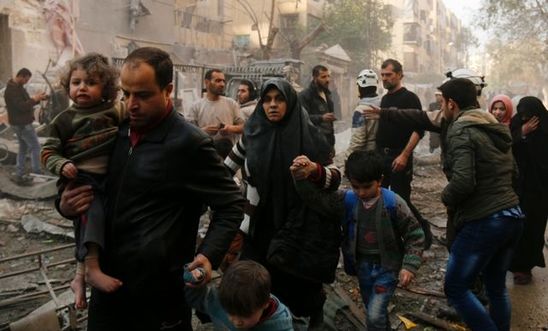 Aleppo has suffered intense bombing for years © AFP/Getty Images
If confirmed, al-Zibdiye attack would be just latest war crime
Meanwhile, Russia's daily three-hour aid pauses criticised as 'grossly inadequate'
Responding to reports that an opposition-held district in the Syrian city of Aleppo has been hit by a chlorine gas attack, Amnesty International said that if confirmed the attack would be a "war crime" as well as constituting an alarming sign that Syrian government forces are intensifying their use of chemical weapons against civilians.
The attack on a residential neighbourhood in a part of Aleppo controlled by armed groups is the third reported use of chemical weapons in northern Syria in just two weeks and has reportedly killed at least four people. Amnesty has confirmed at least 60 others - mostly children - sought medical care after showing symptoms characteristic of a chlorine attack. Amnesty has spoken to a doctor in Aleppo who said that of the 60 injured in the latest attack, 40 were children. He said:
"They were all suffering from the same symptoms, mainly coughing and shortness of breath. I could easily smell chlorine on people's clothes. We will soon run out of medical supplies if the frequency of attacks continues like this."
Yesterday's assault follows other similarly disturbing attacks. Media reports have indicated that another chemical attack was launched in Aleppo on 2 August, while the day before two barrel bombs allegedly containing chlorine gas were dropped on two residential neighbourhoods in the city of Saraqeb in Idleb province, reportedly injuring at least 28 civilians. The Chemical Weapons Convention prohibits the development, production, stockpiling, transfer and use of chemical weapons, and requires parties to the convention to destroy chemical weapon stockpiles. The use of prohibited weapons such as chemical weapons is a war crime under customary international law. 
Yesterday's attack occurred in the al-Zibdiye neighbourhood of Aleppo, a kilometre away from the frontline, and came as Russia announced a three-hour daily ceasefire on the city. 
Amnesty International's Middle East and North Africa Deputy Director Magdalena Mughrabi said:
"This attack in Aleppo is yet another flagrant violation of international humanitarian law and signals a distressing pattern in the use of chemical weapons by regime forces.

 

"We call for the immediate cessation of air raids on civilian targets in Aleppo. It is imperative that chemical attacks and other war crimes end now. We also call for the unrestricted free flow of aid to the tens of thousands of people trapped in the city's east. 

 

"Three hours a day to deliver aid is grossly inadequate given the magnitude of the humanitarian crisis in eastern Aleppo and the perilous and time-consuming nature of such deliveries."
Pattern of chemical attacks
Yesterday's attack comes almost exactly a year after the UN Security Council passed a resolution to establish a mechanism to investigate chemical attacks in Syria and identify their perpetrators. If it is confirmed that bombs dropped yesterday contained chlorine it will underline the extent to which government forces - as well as other parties to the conflict - are continuing to flagrantly violate international humanitarian law.
Syrian government forces are suspected of carrying out dozens of horrific attacks with chlorine and other chemical weapons on opposition-held areas since 2012, killing hundreds and inflicting terrible injuries on others.  All such attacks are prohibited by international humanitarian law. In September 2013, after hundreds of people died in alleged sarin gas attacks on Ghouta, outside Damascus, Syria acceded to the Chemical Weapons Convention and President al-Assad pledged to destroy the country's stockpile of prohibited chemical agents. However, a year later the Organisation for the Prohibition of Chemical Weapons' fact-finding mission found "compelling evidence" that a toxic chemical was used "systematically and repeatedly" as a weapon in villages in northern Syria.