Syria: new campaign on missing lawyer to mark international 'disappearances' day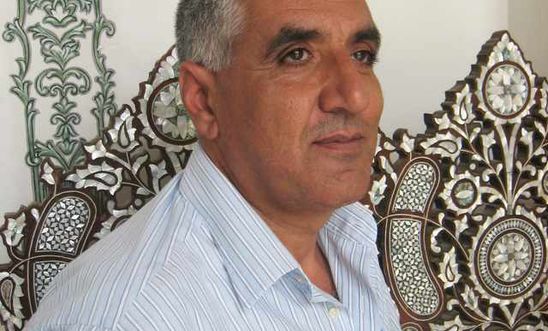 'Khalil Ma'touq has disappeared into the yawning chasm of Syria's secret and deeply frightening detention system' - Kristyan Benedict
Amnesty International has launched a new campaign on "disappeared" prisoners in Syria, in particular highlighting the case of the human rights lawyer Khalil Ma'touq.
The campaign, launched to coincide with International Day of the Disappeared on 30 August, is on behalf of the 55-year-old director of the Syrian Centre for Legal Studies and Research. 
Ma'touq, a father of two from Syria's Christian minority, was last seen on 2 October 2012 as he set off for work in Damascus. It is feared that he was apprehended by government security forces en route to his office. 
In the course of his legal work Ma'touq has defended hundreds of Syria's political prisoners and prisoners of conscience, himself being unfairly prosecuted in 2010 and also receiving a ban on travelling overseas. Ma'touq, who suffers from health problems, travelled to France for medical treatment shortly before his disappearance - a fact that may have aroused the authorities' suspicions.
Amnesty considers Khalil Ma'touq a prisoner of conscience, detained solely for his peaceful human rights-related activities, and is calling for him to be released immediately (a new online appeal is set to launch on 30 August).
Amnesty International UK Syria Campaign Manager Kristyan Benedict said:
"Khalil Ma'touq has disappeared into the yawning chasm of Syria's secret and deeply frightening detention system. 

"As the world marks the day of the disappeared we're urging the Syrian authorities to acknowledge Mr Ma'touq's whereabouts and to release him immediately."
Sightings and tip-off
His friends and family have been informed by various unofficial sources that Ma'touq has been held by several different government security forces, including the State Security branch 285 in the neighbourhood of Kafr Soussa in Damascus. In April 2013 Ma'touq's lawyer received word from a member of the security forces that his client had been moved to an Air Force Intelligence branch in Damascus, while the last reports received about him in September 2013 place him in the notorious Palestine Branch, a detention and interrogation centre in Damascus run by Syria's feared Military Intelligence. 
Deteriorating health
For Ma'touq this detention is particularly dangerous, as he suffers from advanced lung disease caused by a chronic inflammatory condition which has resulted in him having severe breathing difficulties. He takes regular medication and according to his family must be under constant medical supervision. According to what his family and friends have been told, his health has gravely deteriorated during his detention.
On 9 June Syrian leader Bashar al-Assad announced a presidential amnesty pardoning those charged with certain criminal offences. As part of the amnesty Khalil Ma'touq's daughter Ranim was released, having been detained since February. However, the Syrian government has announced various other prisoner amnesties which have failed to lead to the release of numerous prisoners of conscience and thousands of others held in dubious circumstances. 
'Vanished off the face of the earth' video
Amnesty has produced a new six-minute film on disappearances, which features a contribution from the British photojournalist Paul Conroy.