Syria: human rights need to be at heart of today's two sets of peace talks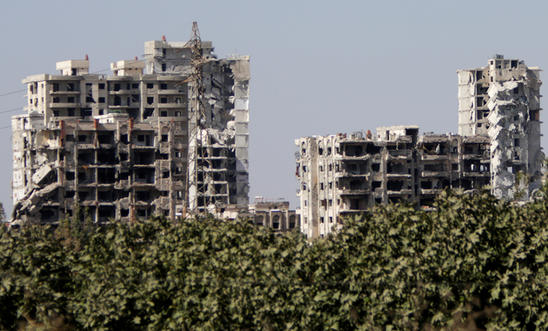 Almost-destroyed buildings in the Waer district in the Syrian city of Homs © REUTERS/Omar Sanadiki
Concerns raised over sieges in places like Eastern Ghouta
 
'Unless human rights and accountability are put at the heart of the peace talks, a just and sustainable peace in Syria will remain elusive' - Lynn Maalouf
With two separate sets of talks on the future of Syria taking place today, Lynn Maalouf, Middle East Research Director at Amnesty International, said:
"As the parties to the conflict in Syria meet separately to discuss a roadmap to peace, millions of Syrian men, women and children face horrific suffering due to the violations and crimes perpetrated by all parties to the conflict.

"Right now, there are hundreds of thousands of people trapped under siege throughout Syria in unbearable conditions without access to food, water or healthcare.

"We are especially concerned about the situation in Eastern Ghouta, besieged by the Syrian government since 2012. Civilians there have been subjected to war crimes for years, but now the government has further tightened the siege and escalated its attacks on civilians and civilian objects.

"This coercive military strategy consisting of prolonged sieges and bombardment is used as a tactic by the government and its allies to pressure armed groups to negotiate a deal to surrender. 

"All parties to the conflict must immediately lift all sieges of civilian areas throughout Syria and allow unimpeded access to impartial humanitarian relief for those in need. Russia, Iran and Turkey must ensure that agreements between parties to the conflict do not involve unlawful forced displacement. 

"Unless human rights and accountability are put at the heart of the peace talks, a just and sustainable peace in Syria will remain elusive. 

"It is crucial that countries with influence over the parties to the conflict help ensure that victims receive full reparation, and work towards fulfilling the right of the displaced to voluntary return in safety and dignity."
Earlier this month, Amnesty published a major report on the "starve or surrender" tactics of besieging forces - predominantly Syrian government ones - who have forcibly displaced thousands of civilians through prolonged bombardments and sieges. 
Two sets of talks
Iran, Turkey and Russia are holding talks on Syria in the Russian city of Sochi today, while more than 30 Syrian opposition groups are convening for separate talks in the Saudi Arabian capital Riyadh.