Syria: government using thousands of disappeared people as 'cash cow' - new report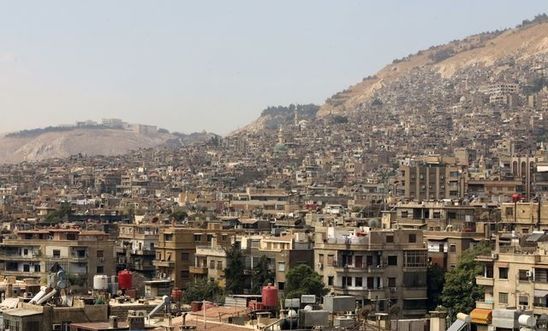 A black economy of ransoms for disappareance cases has sprung up in Syria © Louai Bashara/AFP/Getty Images
'Disappearances are driving a black market economy of bribery which trades in the suffering of families who have lost a loved one' - Philip Luther
The Syrian government is using a policy of subjecting thousands of people to enforced disappearance as both a means to crush opposition and to make large amounts of money  for itself, said Amnesty International in a new report today (5 November).
Amnesty's 70-page report - Between prison and the grave: Enforced disappearances in Syria - reveals that the Syrian authorities are profiting from widespread and systematic enforced disappearances amounting to crimes against humanity, through an insidious black market in which family members desperate to find out the fate of their disappeared relatives are ruthlessly exploited for cash. 
As part of this black market, "middlemen" or "brokers" are paid bribes ranging from hundreds to tens of thousands of pounds by family members. Such bribes have become "a big part of the economy" according to one Syrian human rights activist. A lawyer from Damascus also told Amnesty that the bribes are "a cash cow for the regime … a source of funding they have come to rely on". 
The report gives a tragic insight into the psychological trauma, anguish, despair and physical suffering experienced by family members and friends after an enforced disappearance. Saeed, whose brother Yusef was forcibly disappeared in 2012, said his mother never stops crying now. "Sometimes in the night I wake up and she is awake, looking at his picture and crying," he said. 
In one particularly shocking case, Rania al-Abbasi, a dentist, was arrested in 2013 along with her six children aged between two and 14-years-old, two days after her husband was seized during a raid on their home. The entire family has not been heard of since. It is believed they may have been targeted for providing humanitarian assistance to local families. A friend of Syrian human rights lawyer Khalil Ma'touq, who was forcibly disappeared two years ago, said enforced disappearances are part of "a grand strategy by the government to terrorise the people of Syria". His daughter Raneem Ma'touq was also disappeared for two months.
Some families have sold their property or used their entire life savings to pay bribes to discover the fate of their relatives - sometimes in exchange for false information. One man whose three brothers were disappeared in 2012 told Amnesty he'd borrowed around £100,000 in failed attempts to find out where they are. He is now in Turkey working to pay back his debts. 
The scale of the disappearances is harrowing. The Syrian Network for Human Rights has documented at least 65,000 disappearances since 2011 - 58,000 of them civilians. Those taken are usually held in overcrowded detention cells in appalling conditions and cut off from the outside world. Many have died as a result of rampant disease, torture and extrajudicial execution. 
Among the victims of forced disappearance are peaceful opponents of the government such as demonstrators, human rights activists, journalists, doctors and humanitarian workers. Others have been targeted because they are believed to be disloyal to the government or because their relatives are wanted by the authorities. In some cases, especially in the last two years, enforced disappearances have also been used opportunistically as a means to settle scores or for financial gain, further fuelling the cycle of disappearances. 
Amnesty International's Middle East and North Africa Director Philip Luther said:
"This report describes in heart-breaking detail the devastation and trauma of the families of the tens of thousands of people who have vanished without trace in Syria, and their cruel exploitation for financial gain.

 

"As well as shattering lives, disappearances are driving a black market economy of bribery which trades in the suffering of families who have lost a loved one. They are left with mounting debts and a gaping hole where a loved one used to be.

 

"These are crimes against humanity, part of a carefully-orchestrated campaign designed to spread terror and quash the slightest sign of dissent across the country."
Searching for the missing is dangerous
Family members who try to inquire about disappeared relatives are often at risk of arrest or being forcibly disappeared themselves, which gives them little choice but to resort to using such "middlemen". One man who asked the authorities about his brother's whereabouts was detained for three months and spent several weeks in solitary confinement. Another man who went to Damascus to look for his disappeared son was arrested at a military checkpoint on the way and has not been heard from since. 
Lack of international action
While some states and the UN have condemned enforced disappearances, much more is needed than words of censure. More than a year and a half ago, in February 2014, the UN Security Council adopted Resolution 2139, which calls for an end to enforced disappearances in Syria, but it has yet to take further steps to ensure it is implemented. 
Philip Luther added:
"Words which are not followed up by concrete action will not help the victims of enforced disappearances. The UN Security Council must urgently refer the situation in Syria to the Prosecutor of the International Criminal Court and impose targeted sanctions, including asset freezes, to pressure the authorities to end enforced disappearances.

 

"States supporting the government of Syria, including Iran and Russia, which has recently begun military operations in Syria, cannot wash their hands of the mass crimes against humanity and war crimes being committed with their backing. Russia, whose patronage is essential for President Bashar al-Assad's government, is in a unique position to convince the government to end this cruel and cowardly campaign of disappearances." 
Downloads