Syria: 'flagrant war crimes' being committed in Eastern Ghouta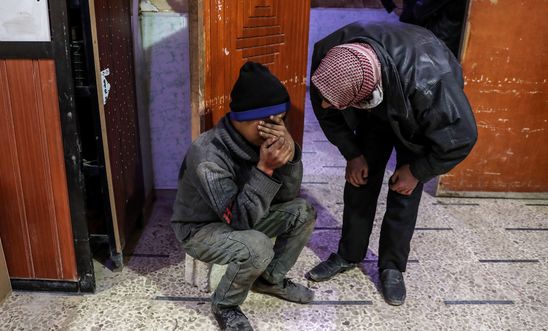 Scores of civilians have been killed in Eastern Ghouta in the past two days © Rex Features
International community still failing to act as 'war crimes on an epic scale' unfold in the besieged suburb of Damascus
'The Syrian government, with the backing of Russia, is intentionally targeting its own people in Eastern Ghouta' - Diana Semaan
Responding to the escalating bombing campaign by the Syrian government and allied Russian forces in Eastern Ghouta near Damascus, Diana Semaan, Amnesty International's Syria researcher, said:
"For six years, the international community has stood by as the Syrian government has committed crimes against humanity and war crimes with total impunity. 

"People have not only been suffering a cruel siege for the past six years, they are now trapped in a daily barrage of attacks that are deliberately killing and maiming them, and that constitute flagrant war crimes.

"The Syrian government, with the backing of Russia, is intentionally targeting its own people in Eastern Ghouta. 

"The United Nations Security Council must enforce its own resolutions which call for an end to sieges of civilian areas and attacks on civilians, and for unimpeded humanitarian access. 

"All parties involved in the conflict must abide by their obligations under international humanitarian law, grant safe passage to civilians wanting to flee the area and allow unfettered access for humanitarian organisations.

"Permanent members, including Russia, should not block measures to end and redress mass atrocities.  

"It is imperative for the Security Council to send a strong message that there will be no impunity for those who commit war crimes and crimes against humanity."
'War crimes on an epic scale'
In November, Amnesty said that Syrian government forces were "committing war crimes on an epic scale" in Eastern Ghouta. Amnesty also showed how Syrian forces were using internationally-banned Soviet-era cluster munitions in their attacks on the opposition-held district.