Syria film/discussion event will highlight plight of prisoners in Assad's jails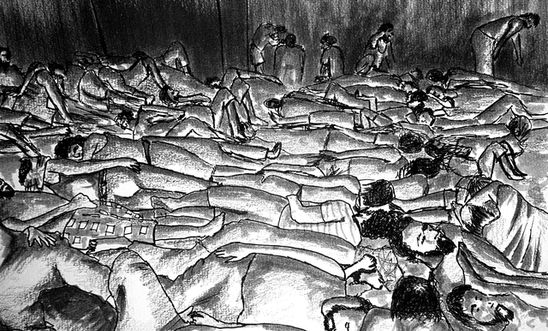 Government jails in Syria are notoriously overcrowded, while torture is commonplace and mass hangings are known to take place © Amnesty International / Mohamad Hamdoun
Event comes after spate of chilling detainee death notifications issued by Syrian authorities 
17-minute documentary film 'Alive in Graves' to be shown
'It was like a part of my soul died … after that, I had no joy, no laughter' - Syrian student subjected to electro-shock torture
On Wednesday 5 September, Amnesty International UK is hosting an event at its east London headquarters highlighting the plight of tens of thousands of detainees held in government jails in Syria.
The event will bring together human rights activists as well as a Syrian woman - Amena Kholane - who was recently informed by the Syrian authorities that two of her brothers - Majd and Abdelsattar - had died in detention.
Ms Kholane is just one of hundreds of Syrians to have recently received chilling official notifications of the deaths of their loved ones after they had been detained or disappeared by the Syrian security services, in some cases many years ago.
Prominent human rights activists are among those belatedly confirmed to be dead, and Amnesty has called for the Syrian authorities to properly inform relatives of the full circumstances of all such deaths as well as to return the remains to bereaved families. 
Amnesty has previously reported on the systematic torture and execution of thousands of prisoners held at the notorious Saydnaya Military Prison near Damascus. 
The event will begin with a screening of Save the Rest's 17-minute documentary "Alive in Graves", which features harrowing accounts of the experiences of detention survivors from Bashar al-Assad's prisons. 
DETAILS
What: film screening and discussion with human rights activists and the sister of two men detained in Syria, followed by informal drinks reception
Who: 
Toby Cadman - co-founder and head of Guernica 37 International Justice Chambers
Amena Kholane - Families for Freedom 
Sema Nassar - founder of Urnammu for Justice and Human Rights
Anwar al-Bunni - Syrian Centre for Legal Research & Studies
Plus - others to be announced
Where: Amnesty International UK, 17-25 New Inn Yard, London EC2A 3EA (Shoreditch)
When: Wednesday 5 September 2018, 6.30pm (doors open at 6pm)
Cost: free - though please reserve a place here.