Syria: cluster munitions and barrel bombs being used against civilians in Idlib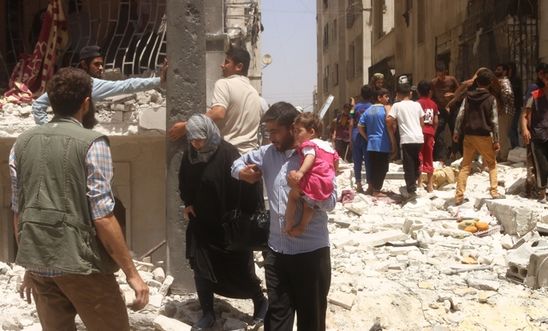 People in Idlib have already been suffering from intensifying attacks for weeks © Hasan Muhtar/Anadolu Agency/Getty Images
Schools and homes hit, as residents describe school playground littered with potentially-lethal cluster 'bomblets'
'I saw several injured people. They were laying on the streets waiting for medical help' - resident of Jarjanaz village
The Syrian government, backed by Russia, has intensified unlawful attacks on civilians in Idlib using internationally-banned cluster munitions and unguided barrel bombs in a prelude to a widely-anticipated military offensive in the beleaguered province, Amnesty International said today.
Eleven residents in Idlib told Amnesty that Syrian forces had dropped barrel bombs and launched cluster munitions on populated areas, damaging schools and homes over several days last weekend and earlier this week.
Amnesty's weapons expert reviewed images provided by Idlib residents showing the remnants of cluster munitions from an attack on Monday (10 September) on the villages of al-Tah and Jarjanaz. The images clearly show remnants from Russian-made 220mm 9M27K rockets that contain 9N235 cluster munitions. Other photos from al-Tah showed unexploded 9N235 cluster munitions. These pose a significant hazard to civilians, particularly children, who may be maimed or killed by these weapons long after their deployment.  
Several witnesses interviewed by Amnesty reported that Syrian government forces launched several Russian-made 9M27K rockets - each carrying 30 cluster munitions - on three villages - Jarjanaz, al-Tah and Hish - during the morning of 10 September. Three people living in Jarjanaz told Amnesty that residential areas were subjected to at least four rocket attacks, damaging homes and two schools, and injuring 11 civilians. 
One resident described hearing several different kinds of explosions:
"I went first to the schools that were impacted in the attack. I saw two girls injured by shrapnel. I was told later that they are in the 7th grade. They were outside when the attack happened but the rest of the students were inside. The playground was covered in unexploded bombs, but the main rocket case landed next to the school ... I saw that the school walls were full of shrapnel and there were holes on the ground. Then I drove to the residential areas where I saw several injured people. They were laying on the streets waiting for medical help."
Meanwhile, three people from Habeet village told Amnesty that Syrian government forces dropped several barrel bombs from helicopters on 10 September. These unguided bombs, each containing at least 45 kilos of explosives, are notoriously inaccurate and have killed large numbers of civilians during the conflict.
Amnesty is calling for the international community to use its influence to immediately end these unlawful attacks and prevent more appalling civilian losses in Idlib.
Diana Semaan, Amnesty International's Syria researcher, said:
"The Syrian government has routinely used banned cluster munitions and barrel bombs across Syria to inflict terrible harm and suffering on civilians. Now, they have started duplicating these horrific tactics in Idlib and we don't have any reason to believe that they will stop.

"As an offensive looms, the international community must act quickly to ensure that civilians in Idlib are protected from these deliberate and indiscriminate attacks."
Amnesty is also calling on Turkey to open its borders to civilians wishing to flee the attacks on Idlib and calling on the international community to assist Turkey with receiving any refugees. 
Dire need
At least 2.5 million people live in Idlib, including 700,000 people internally displaced from other parts of Syria. More than half of the province's population have already been displaced, sometimes multiple times, with up to 300,000 internally-displaced people arriving in Idlib during the past year. According to UN humanitarian agencies, more than two million people in Idlib are in dire need of food, water and healthcare. Many of the displaced are living in overcrowded camps set up near the border with Turkey, with no proper infrastructure or access to clean water and electricity. With job opportunities scarce, the majority of people living in Idlib rely on humanitarian aid for survival.