Syria: armed opposition group committing war crimes in Aleppo - new evidence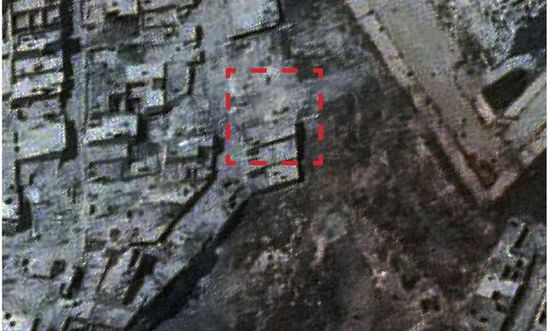 A satellite image showing severe structural damage from attacks in Sheikh Maqsoud on 25 April © Digital Globe, Inc.
The Aleppo Conquest armed groups may have used chemical weapons, as well as 'hell cannon' gas canister munitions
'Sheikh Maqsoud is on the brink of a humanitarian crisis' - Magdalena Mughrabi
Armed groups surrounding the predominantly Kurdish Sheikh Maqsoud district of Aleppo city have repeatedly carried out indiscriminate attacks - possibly including with chemical weapons - that have struck civilian homes, markets and mosques, killing and injuring civilians, and have displayed a shameful disregard for human life, said Amnesty International today.
Two of the armed groups conducting attacks on Sheikh Maqsoud - Ahrar al Sham and Army of Islam - have sent representatives to the UN-brokered negotiations on Syria in Geneva, while the others have approved delegates to represent them at the talks. 
There are around 30,000 civilians living in Sheikh Maqsoud, a district controlled by the Kurdish People's Protection Unit (YPG) forces, and the area has come under sustained attack from opposition armed groups who control areas to the north, east and west of the district. 
Among the weapons used by the armed groups are unguided projectiles which cannot be accurately aimed at specific targets, including home-made "Hamim" rockets and projectiles fitted with gas canisters known as "hell cannons". 
Amnesty has obtained the names of at least 83 civilians, including 30 children, who were killed by attacks in Sheikh Maqsoud between February and April. More than 700 civilians were also injured, according to the local field hospital. Video evidence seen by Amnesty shows artillery shelling, and rocket and mortar attacks carried out by the Fatah Halab (Aleppo Conquest) coalition of armed groups in the area, targeting YPG forces.
However, civilians have borne the brunt. Satellite imagery, obtained by Amnesty and corroborated by residents, shows destroyed and badly-damaged houses in a residential street in the western part of Sheikh Maqsoud, more than 800 metres away from the frontline. 
One man, Mohamad, lost seven members of his family when his home was struck by an improvised "Hamim" rocket launched by an armed group on 5 April. Those killed included his 18-month-old daughter, his two sons - aged 15 and ten - and an eight-year-old nephew. He and two of his other young nephews sustained shrapnel wounds and were seriously injured. He told Amnesty: "There are no [military] checkpoints near my house. It is a residential street and there are even people displaced by fighting or who fled airstrikes in Aleppo city living on the same street." Two days earlier Mohamad's neighbour's house was also hit by a mortar which killed two children. 
Another resident told Amnesty that the shelling in Sheikh Maqsoud intensified in February and that people spent days in their homes unable to leave. She described how her home was attacked in April by what she believed was a weapon fitted with a gas canister: "All I remember was the walls collapsing and hearing an explosion. We got injured - I had shrapnel in my hands and legs […] We live […] very far away from the frontline. There are no checkpoints close by or any other military points."
Saad, a pharmacist, described 5 April as "the bloodiest day the neighbourhood had witnessed". He said that shelling from armed groups continued for nine hours straight. He added: "We counted at least 15 Hamim rockets and more than 100 mortars. The shells were falling everywhere, it was indiscriminate."
There are also allegations that armed groups attacking Sheikh Maqsoud have used chemical weapons. A doctor told Amnesty that on 7 and 8 April he treated six civilians and two YPG fighters for symptoms including shortness of breath, numbness, red eyes and severe coughing fits. He said that several of the victims reported seeing yellow smoke as missiles impacted.  A toxicologist consulted by Amnesty, who viewed video clips of the apparent attack and reviewed the doctor's testimony, said the patients' symptoms could be the effects of a chlorine attack.  A subsequent statement purportedly issued by the leader of the Army of Islam armed group said that a field commander had deployed an "unauthorised weapon" on Sheikh Maqsoud and would be held to account. 
Amnesty International's Middle East and North Africa Deputy Director Magdalena Mughrabi said: 
 

"The relentless pummelling of Sheikh Maqsoud has devastated the lives of civilians in the area. A wide array of armed groups from the Fatah Halab coalition has launched what appear to be repeated indiscriminate attacks that may amount to war crimes.

 

"By firing imprecise explosive weapons into civilian neighbourhoods the armed groups attacking Sheikh Maqsoud are flagrantly flouting the principle of distinction between civilian and military targets, a cardinal rule of international humanitarian law.

 

"The international community must not turn a blind eye to the mounting evidence of war crimes by armed opposition groups in Syria. The fact that the scale of war crimes by government forces is far greater is no excuse for tolerating serious violations by the opposition." 
Deteriorating humanitarian conditions 
As well as being subjected to indiscriminate shelling, civilians in Sheikh Maqsoud are effectively trapped in the area amid a deteriorating humanitarian situation. Continuing clashes have prevented aid from entering or people from leaving. Government forces have only allowed civilians requiring medical attention out of the area on the side they control and have restricted the entry of medical supplies and food - with only vegetables and bread allowed in. According to residents, the pharmacies in Sheikh Maqsoud are empty and many have shut down. "We barely have any food left in the neighbourhood," one resident said, adding that aid supplies were running out rapidly.
Magdalena Mughrabi said:
"Sheikh Maqsoud is on the brink of a humanitarian crisis. It is critical that the Syrian government and armed groups urgently allow unfettered access for humanitarian aid and allow civilians who wish to leave the area to do so."
Fatah Halab military coalition 
The armed groups carrying out indiscriminate attacks on Sheikh Maqsoud are part of the Fatah Halab military coalition, which includes: Islamic Movement of Ahrar ash-Sham, Army of Islam, al-Shamia Front, Brigade of Sultan Murad, Sultan Fatih Battalions, Fa Istaqim Kama Omirt Battalions, Nour al-Deen Zinki Battalions, 13 Brigade, 16 Brigade, 1st Regiment (al-Foj al-Awal) and Abu Omara Battalions. 
According to the Syrian Network for Human Rights, at least 23 civilians were meanwhile killed by YPG shelling and sniper attacks in opposition-held areas in Aleppo between February and April. 
International community must act over arms flows
Amnesty is calling on the Gulf states, Turkey and others believed to be providing support to armed groups in Syria, to immediately block the transfer of arms to such groups, including logistical and financial support for such transfers, where there is credible evidence that they have committed serious human rights abuses and violations of international humanitarian law