Syria: airstrike on Save The Children-backed maternity hospital in Idlib 'despicable'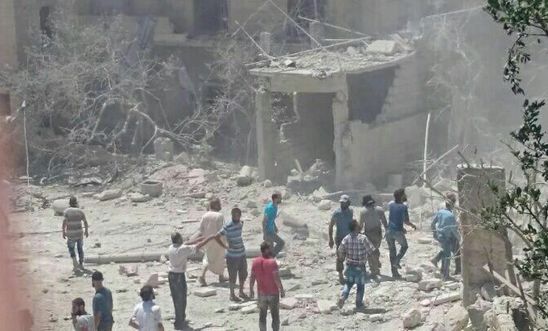 Casualties have been reported from the attack on the Save the Children-supported hospital © Save The Children
Attack fits pattern of Syrian government and Russian airstrikes 
An aerial attack which partially destroyed a maternity hospital in rural Idlib province in northwest Syria this afternoon appears to be part of a despicable pattern of unlawful attacks deliberately targeting medical facilities, said Amnesty International.
The number of casualties in today's attack is not yet clear, but a spokesperson from Save the Children, which supports the hospital, told media there were at least two fatalities. It is unclear who carried out the attack, but it was in an area under the control of armed groups where Syrian and Russian armed forces had been launching airstrikes.
Photos and video footage taken in the aftermath showed part of the hospital in ruins, with rubble strewn both inside and outside the building. Other photographs taken around the time of the airstrike showed new-born babies in incubators. According to Save the Children, it is the area's only maternity hospital, delivering around 700 babies a month. The attack comes after four hospitals and a blood bank in eastern Aleppo were struck in aerial attacks on 23-24 July. According to United Nations children's agency UNICEF, one of them, a paediatric hospital, was hit twice in less than 12 hours.
Today's airstrike appears to fit into a pattern
documented
by Amnesty of apparently deliberate attacks on Syrian hospitals and medical infrastructure by Syrian and Russian armed forces - attacks which seem to be part of their military strategy.
Amnesty International's Middle East and North Africa Director, Philip Luther, said:
 

"Hospitals, which have special protection under international humanitarian law, should be safe places for mothers, new-born infants and medical workers - even in the midst of a brutal prolonged conflict.

 

"Syria and Russia must end attacks on hospitals and medical facilities. All such attacks must be investigated and those responsible for serious violations of the laws of war must be brought to justice."
The Physicians for Human Rights NGO has tracked attacks on healthcare workers and infrastructure during the Syrian conflict. Before today's assault, the group had documented 373 attacks on medical facilities, with 750 personnel killed, the vast majority of them carried out by Syrian government forces and their allies.