Switzerland: Violence and racism in asylum centres run by private security companies - new report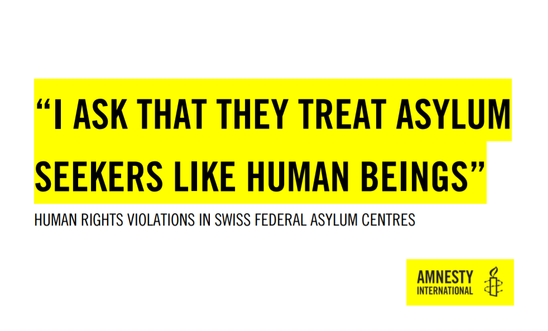 © Amnesty International
New report includes disturbing testimony, with guards themselves shocked at orders they received
Some asylum-seekers, including children, put in freezing-cold steel containers - or 'reflection rooms'
'The Government must go beyond thinking these acts of abuse are the actions of a few bad apples' - Alicia Giraudel
People held in federal asylum centres operated by private security companies in Switzerland have been subjected to a range of abuse at the hands of security guards, including violence and coercive measures, the use of pepper gel and being locked in a metal container resulting in hypothermia, said Amnesty International.
The findings - contained in a new 25-page Amnesty report - 'Human Rights Violations in Swiss Federal Asylum Centres' - shows how people have suffered abuse across a lengthy period in facilities operated by the State Secretariat for Migration in Basel, Giffers, Boudry, Altstätten and Vallorbe.
Drawing on testimony from more than 30 people - including 14 victims of abuse, 18 current and former security guards, lawyers, social workers and social educators who witnessed mistreatment - Amnesty's report shows that a culture of abusive behaviour towards people housed in federal asylum centres had developed because of an assumption that people seeking asylum are potentially violent and dangerous.
Security guards criticised training methods at the centres, expressing their shock at instructions and encouragement from their superiors to quickly resort to violence and coercive measures. In particular, staff were shocked at the use of a "reflection room", a metal container where people - including children - are detained in freezing-cold temperatures.
Amnesty found that six of the 14 people it interviewed had required hospital treatment for their injuries, and two were denied medical treatment even though they had requested assistance. It was also found that those who had suffered abuse were unaware of how to lodge complaints, with access to justice limited.
Concerns about abuses were brought to Amnesty's attention by social workers and security guards, as well as people seeking asylum who are or were housed in the centres, and legal representatives who work or have worked in the facilities
Amnesty is calling on the Swiss authorities to address negative stereotypes and racist views about those seeking asylum in the country, especially people from North Africa, and to stop placing unaccompanied minors in asylum centres.
Alicia Giraudel, Legal Advisor at Amnesty International Switzerland, said:
"The accounts we heard from victims are deeply concerning and could constitute torture or other ill-treatment, violating Switzerland's obligations under international law.

"Not only have people endured physical abuse but some experienced racism, especially those of North African descent.

"We welcome the recent commitment by the State Secretariat for Migration to conduct an external investigation into individual allegations of abuse, but the Government must go beyond thinking these acts of abuse are the actions of a few bad apples.

"The Government must address urgent systemic issues and take measures to end the cycle of abuse, eradicate racism and protect the human rights of people in federal asylum centres."