Sudan: Torture of British journalist highlights need to investigate Darfur chemical attacks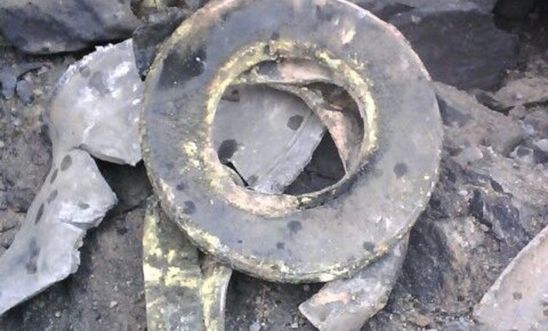 Remnants of bombs that fell in Western Jebel Marra and released allegedly chemical weapons agents
The torture of a British journalist and his Darfuri producer abducted en route to Jebel Marra, in Sudan's Darfur region, is not only a grave affront to press freedom, but also proof the Sudanese authorities have something to hide in the region, said Amnesty International today ahead of the transmission of a film on Channel 4 News tonight detailing their harrowing six-week ordeal.
Phil Cox, a British national, and Daoud Hari, a Darfuri translator and author, had been commissioned by Channel 4 to investigate reports by Amnesty International that Sudanese security forces had used chemical weapons against civilians in Jebel Marra between January and August 2016.
Muthoni Wanyeki, Amnesty International's Regional Director for East Africa, the Horn and the Great Lakes, said:
"For nearly two months, the two journalists were locked up in a prison and tortured, simply for doing their job. They were beaten, subjected to electric shocks, deliberately deprived of oxygen and subjected to mock executions.  

"The lengths to which the Sudanese government went to keep the two journalists out of Jebel Marra, including acts of torture, only suggests one thing: that it has something to hide. If no chemical weapons were used, then why not let the journalists get on with their job?

"This is one more reason, if any were needed, why the alleged chemical attacks which killed an estimated 200 to 250 people, must be thoroughly and independently investigated."

While in Darfur, the two filmmakers were abducted by members of the Rapid Support Forces (RSF), who are part of the military and a central element in the Sudanese government efforts to stem the flow of refugees to Europe under the EU-Horn of Africa Migration Route Initiative, also known as the Khartoum Process.
Amnesty International has expressed concern that EU funds to Sudan under the Khartoum Process maybe inadvertently financing the RSF, a group accused of appalling human rights violations.
After a week spent chained to a tree in North Darfur, the two filmmakers were transferred to other Sudanese government forces and moved to Kober Prison in the capital, Khartoum, where they were held for six weeks with other detainees, including human rights defenders, dozens of whom were being held without charge.
"Now that a pattern of arbitrary detention and torture at Kober has been exposed, the international community must take action. They must insist that all detainees still held there be either released, or charged with a recognised offence in an ordinary and civilian court of law," said Muthoni Wanyeki.
Background
Sudanese government forces that participated in chemical attacks in Jebel Marra, committed numerous crimes under international law and human rights violations, including unlawful killings, indiscriminate aerial bombings, forced displacement, rape and pillage.
Over the last few years many opposition activists, students and human rights defenders have been arbitrarily arrested, tortured and forcibly disappeared by agents of the National Intelligence Security Service (NISS). The NISS has also been used to gag the press by harassing and arresting journalists.
Newspapers are also heavily censored and sometimes entire print runs are confiscated if they criticise the government. Although the majority of cases of arbitrary arrests have been by NISS agents, there have been multiple reports of such arrests carried out by Military Intelligence officers.
'Hunted in Sudan', a film on the journalists' ordeal, will be broadcast on Channel 4 News tonight and tomorrow.