Sri Lanka: Free prominent campaigners Ruki Fernando and Father Praveen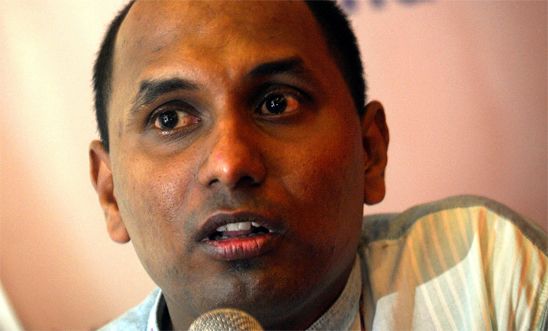 Sri Lankan national KM Ruki Fernando in Manila, 2009 © JES AZNAR/AFP/Getty
The arbitrary arrest and detention of two prominent campaigners is an attempt to silence criticism and divert the spotlight from ongoing state abuses, human rights monitors said in a joint statement.
The statement was issued by Amnesty International, Human Rights Watch, Forum Asia, the International Crisis Group, and the International Commission of Jurists.
Ruki Fernando of the Colombo-based organisation INFORM and Father Praveen Mahesan, a Catholic priest, were arrested in Kilinochchi on Sunday and are believed to be detained without formal charge under Sri Lanka's notoriously draconian Prevention of Terrorism Act (PTA).
The two had been trying to secure the release of a mother and daughter who were being held following their participation in demonstrations against disappearances including in Jaffna last November, during a visit to Sri Lanka by Prime Minister David Cameron.
David Griffiths, Amnesty International's deputy director for Asia Pacific, said:
"The Sri Lankan authorities need to release Fernando and Father Praveen, and end the ongoing state harassment of human rights defenders.
"How can the international community take Sri Lanka's claims to respect rights seriously when rights defenders continue to face intimidation and criminal charges for demanding accountability and human rights protection?"
The police Terrorism Investigation Division (TID) detained and questioned Ruki Fernando and Father Praveen after they sought to ensure the welfare of 13-year-old Balendran Vithushaini, who had been ordered into probationary care following the arrest of her mother, Balendran Jeyakumari, on 13 March.
Both mother and daughter are active opponents of enforced disappearances in Sri Lanka and have been prominently featured in international media coverage of demonstrations by families of the disappeared.
Fernando and Father Praveen were questioned separately in two different buildings for more than three hours by several TID officers. Lawyers acting on their behalf were given contradictory information about the arrests and the reasons for their detention. The most recent information is that Fernando and Father Praveen have been taken to police Terrorism Investigation Division headquarters in Colombo, and their lawyers are still seeking access to them.
Fernando and Father Praveen have not been charged, but according to Sri Lankan Police spokesperson Senior Superintendent Ajith Rohana, they will be charged with "attempting to create instability among communities" and "allegedly promoting separatism" under the Prevention of Terrorism Act.
The PTA has been widely criticised by Sri Lankan civil society, international monitoring organisations, and United Nations bodies
The organisations stressed that Fernando and Father Praveen should be given full rights while they remain in detention. Under international law, including the International Covenant on Civil and Political Rights, to which Sri Lanka is a state party, people deprived of their liberty must be promptly informed of the reasons for their detention, be given prompt and regular access to lawyers, and be promptly brought before a judge or judicial officer.
The rights organisations pointed out that Sri Lanka's security forces have a well-documented history of custodial torture.