Sri Lanka: Amnesty warns of crackdown ahead of UN Human Rights Session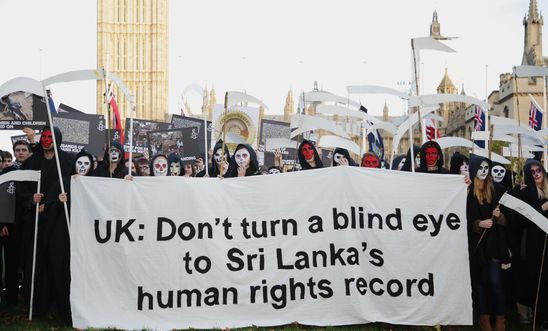 Protest in Westminster ahead of CHOGM © Amnesty UK
The Sri Lankan government is targeting critics at alarming levels, with more surveillance and harassment expected ahead of next month's UN Human Rights Council session, Amnesty International said in a new briefing today.
A vote is expected on a UN resolution calling for an international investigation into alleged war crimes in Sri Lanka at the UN Human Rights Council (HRC) session, next month.
Suppressing calls for justice, examines the Sri Lankan authorities' attacks on critics over the past six months, either directly or through proxies that include supporters of Buddhist-nationalist groups and immigration officials.
The run-up to the UN meeting, which starts next week, is a particularly dangerous time for opposition politicians, human rights activists, journalists, lawyers and trade unionists as the targeting of critics intensifies in the approach to high-profile international events. Similar crackdowns were observed before last year's Commonwealth Heads of Government Meeting and before a visit last year from the UN High Commissioner for Human Rights.
On Monday the UN High Commissioner for Human Rights Navi Pillay published a review from her visit, which examined the government's efforts to investigate human rights violations during and after the Sri Lankan armed conflict. The review condemned the government's consistent failure to establish the truth and achieve justice blaming the failure on a lack of political will. Pillay also highlighted the overwhelming sense of grief and trauma among victims and survivors.
 
Amnesty International's Deputy Asia- Pacific Director Polly Truscott said:
"The pattern of harassment, surveillance and attacks against those opposing the Sri Lankan authorities is deeply disturbing.

"We urge UN member states to agree a strong resolution establishing an independent international investigation into alleged war crimes. And it is equally crucial that the world does not lose sight of the still very troubling assault on dissent in Sri Lanka today.

"Repression usually intensifies whenever Sri Lanka's human rights situation is in focus internationally, something we are already seeing ahead of the UN Human Rights Council next month.

"The climate of fear is very real in Sri Lanka. Many people are too afraid to speak out. But Sri Lanka also has some very brave activists, who continue to be vocal despite facing retaliation.

"Some even dare to attend international meetings that could actually lead to an improved human rights situation. The UN should make every effort to ensure that they are protected."
The briefing also documents how the Sri Lankan government exploits religious tensions, leading to attacks on minorities.
Sri Lanka is also increasingly using immigration to silence dissent. The authorities have deported several foreign individuals who had been participating in human rights-related meetings.