South Sudan: nearly five million left 'food insecure' as conflict enters fifth year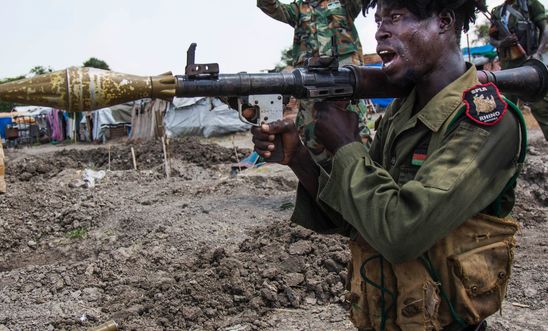 Unimaginable acts of violence have killed tens of thousands, with thousands more subjected to sexual violence and four million forced to flee their homes
Sustained international action is urgently needed to end horrific human rights violations taking place in South Sudan, Amnesty International said today (15 December) as the country's armed conflict enters its fifth year.
Since the conflict began (on 15 December 2013), tens of thousands of people have been killed, thousands more have been subjected to sexual violence, and close to four million have been forced to flee their homes.
The last four years of fighting have had a devastating impact on civilians. Thousands of men, women and children have been subjected to unimaginable acts of violence, including sexual assault by government and opposition forces - some of which could amount to crimes against humanity or war crimes. Journalists, human rights activists and opposition supporters have been harassed, arbitrarily arrested and in some cases tortured, and humanitarian workers have been prevented from carrying out their work.
In the Equatoria region in southern South Sudan, Amnesty has reported on how government and opposition forces have cut food supplies to certain areas, systematically looted food from markets and homes, and targeted civilians carrying even the smallest amount of food across frontlines.
Sarah Jackson, Amnesty's Deputy Regional Director for East Africa, said:
"Food has been used as a weapon of war, and as a result today approximately 4.8 million people are considered to be food insecure.
"Coordinated and sustained international action is needed now more than ever to end the suffering in South Sudan, especially as the rainy season ends and the dry season begins, heralding an escalation in fighting.
"Efforts to end the conflict must also include imposition of an arms embargo on all parties to the conflict and concrete measures to deliver justice to victims of grave human rights violations, chiefly through the setting up of the much-delayed Hybrid Court for South Sudan.
"The South Sudanese authorities must restore unfettered access to aid agencies to distribute much-needed food and medical supplies to victims of this conflict."
For more, see our previous reporting:
South Sudan: sexual violence 'on a massive scale' leaves thousands in mental distress amid raging conflict (July 2017)
South Sudan: ongoing atrocities turn country's breadbasket into a killing field (July 2017)
South Sudan: killings, mass displacement and systematic looting as government forces purge civilians from Upper Nile (June 2017)
South Sudan: release all people arbitrarily detained amid conflict (March 2017)