Slovakia: 'harmful' abortion restrictions would endanger the lives of women and girls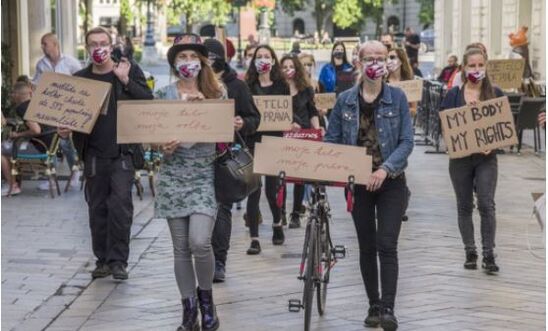 © AI Slovakia
Slovakian politicians due to debate new abortion bill
Draft legislation seeks to double waiting period before a woman can access abortion
Country-wide protests to take place today
'The measures in this retrogressive bill…not only contain no medical purpose but contravene medical best practice guidelines' - Monica Costa-Riba
Lawmakers in Slovakia must reject a draconian law that would impose new barriers to abortion and endanger the health and wellbeing of women and girls, Amnesty International said today, ahead of the start of a parliamentary plenary session that will debate on a new abortion bill.
If passed, the law would introduce additional barriers to women and girls seeking abortion, doubling unnecessary waiting periods, imposing new medical authorisation requirements for abortion on health grounds and forcing them to state their reasons for seeking care.
Monica Costa-Riba, Amnesty International's Senior Campaigner on Women's Rights in Europe, said:
"Today, women rights' activists across Slovakia will speak out against a law that would endanger their health and wellbeing as well as undermine their privacy and subject them to further stigma and degrading treatment.

"Imposing onerous requirements, delays and new layers of medical authorisation will harm women's rights to bodily autonomy, privacy and dignity.

"The measures in this retrogressive bill are purely political in nature and not only contain no medical purpose but contravene medical best practice guidelines.

"Lawmakers must reject this harmful proposed law and instead work towards removing existing barriers to access to safe abortions and ensure everyone's right to make decisions about their bodies and reproductive lives is protected."
Proposed restrictions
The draft legislation seeks to double the mandatory waiting period from 48 to 96 hours before a woman can access abortion on request. A new layer of medical authorisation requirements for abortion on health grounds would be added and women would have to state the reasons for seeking an abortion as well as disclose other private information. This information would then be transferred to the National Health Information Centre.
The bill also seeks to restrict the information that medical professionals can provide publicly about abortion services by prohibiting so-called "advertising" on abortion. This will restrict doctors' ability to provide evidence-based information to women about abortion care and where to access lawful abortions.
Abortion Bill background
A bill tabled in November 2019 attempted to force people seeking an abortion to view an ultrasound scan of the embryo or foetus was finally rejected in Parliament. Attempts to restrict access to safe abortion continued in 2020 with a new government and parliament in place.
The current bill was passed in first reading in July and will be debated and voted during the plenary session starting from 16 September.
More than 100 organisations, including Amnesty International, have sent a letter to all MPs in Slovakia to oppose the bill. https://www.amnesty.org/en/documents/eur72/3021/2020/en/
Abortions are permitted in Slovakia in the first 12 weeks of pregnancy. However, over the last few years, the country has introduced laws and policies to make access to timely and safe and legal abortion services more difficult to access.