Singapore: First woman 'unlawfully' executed in 20 years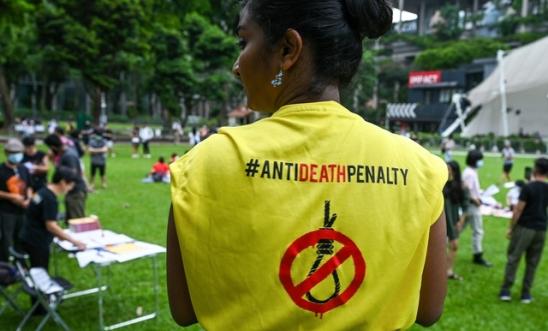 © AFP via Getty Images
Singaporean national Saridewi Djamani was executed today, the second execution this week
A third execution is expected next week
Singapore is one of four countries that still executes people for drug offences
'The authorities in Singapore must stop their unlawful and increased resort to executions in the name of drug-control' - Chiara Sangiorgio
Responding to what is believed to be the first execution of a woman in Singapore in two decades and the country's second execution in under a week, Chiara Sangiorgio, Amnesty International's death penalty expert, said:
"This week has cast a harsh and tragic spotlight on the complete lack of death penalty reform in Singapore as the Government carried out two unlawful drug executions, including of the first woman known to be executed there in two decades.

"As most of the world turns its back on this cruel punishment, Singapore's government continues down the path of executing people for drug-related crimes, violating international human rights law and standards.

"In the same week that Singapore unlawfully put two people to death, we see clear evidence of the irreversible trend to do away with this punishment which has no place in our societies, with Ghana the latest country to abolish the death penalty for most offences.

"More than two-thirds of countries have abolished the death penalty in law or practice - when is Singapore going to wake up and do the same?

"The authorities in Singapore must stop their unlawful and increased resort to executions in the name of drug-control.

"There is no evidence that the death penalty has a unique deterrent effect or that it has any impact on the use and availability of drugs. In fact, it has the effect of disproportionately punishing and further discriminating against those with disadvantaged socio-economic backgrounds or belonging to marginalised groups.

"We call on governments, the United Nations Office on Drugs and Crime and the International Narcotics Control Board to increase pressure on Singapore to end its highly punitive approach to drug control policies."
Singapore national Saridewi Djamani was the first woman known to be executed in the country since 2004, according to the Transformative Justice Collective. She was found guilty of possessing around 30 grams of diamorphine (heroin) for the purposes of trafficking. Her execution comes days after Mohd Aziz bin Hussain, a Singaporean Malay man, was executed after being found guilty in 2018 of trafficking around 50 grams of heroin.
Third execution expected next week
A third execution has been set for 3 August of a man convicted and sentenced to the mandatory death penalty for possessing 54.04g of heroin for the purpose of trafficking, according to the Transformative Justice Collective.
Singapore is one of only four countries, including China, Iran and Saudi Arabia, where executions for drug-related offences were confirmed in 2022. It has executed 15 people for drug related offences since 30 March last year, when executions resumed after a two-year hiatus; four of those were carried out this year.
Amnesty opposes the death penalty unconditionally, in all cases and under any circumstances.