Singapore: Authorities must stop double execution and abolish the death penalty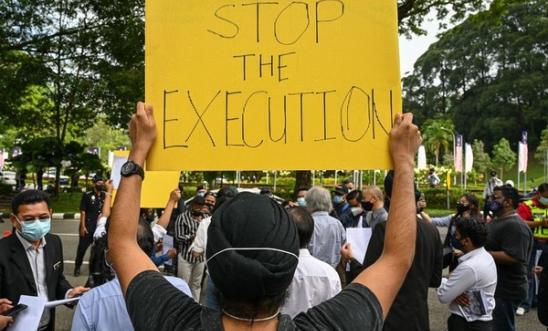 An activist holds a placard before submitting a memorandum to parliament in protest at the impending execution of Nagaenthran K. Dharmalingam © MOHD RASFAN/AFP via Getty Images
Two Malaysian nationals due to be executed next week
The Government must grant the men clemency
'The death penalty will never solve problems associated with drugs in Singapore' - Erwin van der Borght
Responding to the news that Singapore authorities have set execution dates for Nagaenthran Dharmalingam and another Malaysian man for next week, Amnesty International's Asia-Pacific Regional Director, Erwin van der Borght, said:
"The planned execution of two Malaysian men in Singapore next week, both convicted of drug-related offences, is unconscionable.

"It is not too late for the authorities to grant both men clemency and cease the shameful series of unlawful executions in Singapore, following the hanging of Abdul Kahar bin Othman last month.

"Nagaenthran is set to be hanged despite multiple experts finding he has an intellectual disability, which may have impacted on his right to a fair trial. There are also concerns about his present mental health, as his cognitive function appears to have been severely impaired after years in detention.

"Singapore's Prime Minister Lee Hsien Loong and his cabinet must seize this last chance to spare Nagaenthran's life. The Government must also halt the execution of another man due to be hanged two days later, despite his having a legal challenge pending in court in May.

"We urge the authorities to establish an official moratorium on all executions and revise the scope of the death penalty for drug-related offences as first moves towards its full abolition.

"The death penalty will never solve problems associated with drugs in Singapore."
Executions next week
Malaysian national Nagaenthran Dharmalingam's execution has been set for 27 April.
His second petition for clemency was rejected on 31 March, as communicated by letter to his family.
On 29 March, a Singapore court had upheld his death sentence, despite medical experts finding he had a mental health issues.
His appeal was one of the last opportunities for him to be spared execution. In the ruling, the court rejected arguments about the decline of his mental state, and they have similarly dismissed challenges based on his intellectual ability.
The Convention on the Rights of Persons with Disabilities prohibits the death penalty for people whose mental and intellectual disabilities may have had their effective defence impeded. International human rights law and standards prohibit the imposition of the death penalty for drug-related offences and as the mandatory punishment for any offences.
And international safeguards guaranteeing protections of the rights of those facing the death penalty state that executions may not be carried out pending any appeal or other recourse procedure.
Recent execution in Singapore
Abdul Kahar bin Othman was executed on 30 March 2021, after being sentenced to the mandatory death penalty for drug-related offences - the first known execution in Singapore since November 2019.
Abolish the death penalty
Amnesty opposes the death penalty unconditionally, in all cases and under any circumstances. More than two-thirds of countries all over the world have abolished the punishment in law or practice.