Singapore: Authorities must not carry out 'cruel and unconscionable' executions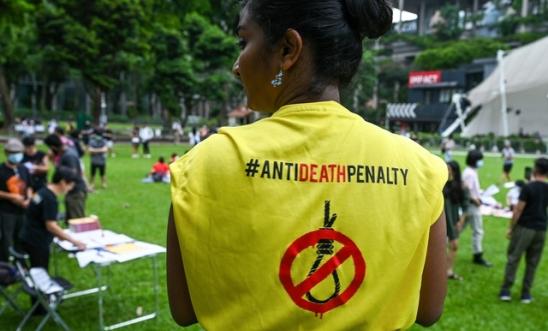 © AFP via Getty Images
Two executions for drug offences expected this week
First woman due to be executed in the country for 20 years
Singapore is one of four countries that still executes people for drug offences
'There is no evidence that the death penalty has a unique deterrent effect or that it has any impact on the use and availability of drugs' - Chiara Sangiorgio
Responding to news that two executions for drug-related offences are set to take place this week (26 and 28 July) - one will be the first woman to be executed in Singapore for about 20 years - Chiara Sangiorgio, Amnesty International's death penalty expert, said:  
"It is unconscionable that authorities in Singapore cruelly continue to pursue more executions in the name of drug control. 

"There is no evidence that the death penalty has a unique deterrent effect or that it has any impact on the use and availability of drugs. As countries around the world do away with the death penalty and embrace drug policy reform, Singapore's authorities are doing neither.  

"The only message that these executions send is that the Government is once again willing to defy international safeguards on the use of the death penalty.  

"Singapore must reverse course and consign the death penalty to the history books and take a serious look at offering more effective protection from drug-related harm, such as by expanding access to health and social services, including for people who use drugs and addressing the underlying socio-economic causes that lead people to engage in the drug trade.  

"We renew our call on governments, the United Nations Office on Drugs and Crime and the International Narcotics Control Board to increase their pressure on Singapore so that all executions end and drug control policies become rooted in the promotion and protection of human rights. 

"This must start today with an unequivocal condemnation of these executions."
Singapore is one of only four countries, including China, Iran and Saudi Arabia, where executions for drug-related offences were confirmed in 2022. Amnesty opposes the death penalty unconditionally, in all cases and under any circumstances.  
Executions this week
26 July: A Singaporean Malay man is due to be executed tomorrow after being sentenced to death in 2018 for trafficking around 50 grams of diamorphine (heroin) according to the Transformative Justice Collective.
28 July: According to reports Singaporean national, Saridewi Djamani is set to be executed two days later making her the first woman to be executed in Singapore for about 20 years. She was found guilty of possessing about 30 grams of heroin for the purposes of trafficking.