Shell profits won't count the true cost of Niger Delta oil spills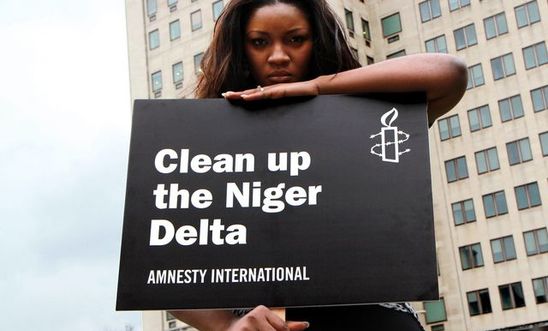 Omotola Jalade Ekeinde supports Amnesty's call to clean up the Niger Delta © Amnesty International
Clean-up and compensation could cost Shell dear 

Spokespeople available for interview 
Decades of unchecked Niger Delta oil spills could cost Royal Dutch Shell billions in compensation and clean-up costs, Amnesty International warned investors as the Anglo-Dutch oil giant publishes its profits figures for the first quarter of 2015. 
The United Nations Environment Programme estimated that £650 million ($1 billion) is needed for the first five years of oil clean-up for Ogoniland, just one Nigerian region where Shell operates. It projected that cleaning up oil pollution in the area could be a 30-year operation. 
Amnesty International's Business and Human Rights Reseacher Mark Dummett said: 
"Investors must beware the hidden costs that await Shell from its Niger Delta operations. For decades the multi-national oil giant has failed to stop the oil spills, or clean up the devastating pollution that has destroyed lives and livelihoods. 

 

"Last year Shell made profits of £9.8 billion ($15 billion), so investors may see it as a safe bet. But court actions have already forced it to pay out millions in compensation, paving the way for future actions from other Nigerian communities which have borne the brunt of the company's negligence." 
In January this year Shell, the largest oil company operating in the Niger Delta, finally agreed to pay £55 million compensation to one community living in Bodo, Ogoniland after thousands of residents took Shell to court in the UK. The company had originally offered them a paltry £4,000 for the devastation of the fishing and farming livelihoods caused by just two of the hundreds of Shell oil spills every year. 
Shell has reported more than 1,000 Niger Delta oil spills since 2009, with 204 spills in 2014, and 203 in 2013. Nigeria is a major country of operation for Shell, providing 10% of its oil production in 2014. 
Mark Dummett added: 
"Shell will also have to play its part cleaning up the lasting damage from the hundreds of oil spills that continue to blight the Niger Delta every year. It should come clean with investors making clear what contingencies it is putting aside to put right the damage done over the last half a century.

 

"Shell continues to blame theft and sabotage for oil spills, but old pipelines and badly maintained infrastructure are a major cause of pollution."
Shell claims that the vast majority of spills in Nigeria are caused by oil theft and sabotage. While these are serious problems, Shell was forced to disclose during the court action taken by the Bodo community that it has known sections of its pipelines contained "major risk and hazard" since at least 2002. Moreover, Shell's claim is based on a flawed oil spill investigation process. 
Investors in Shell should ask the company to remedy the corporate abuses in the Niger Delta and demand more transparency about oil spills and future clean-up and compensation plans. 
Note to editors
Pictures of Ogoniland and the Bodo community, such as fish farms destroyed by oil spills, are available for reuse on request.