Senior role for Indonesian general implicated in East Timor crimes shows 'contempt for human rights'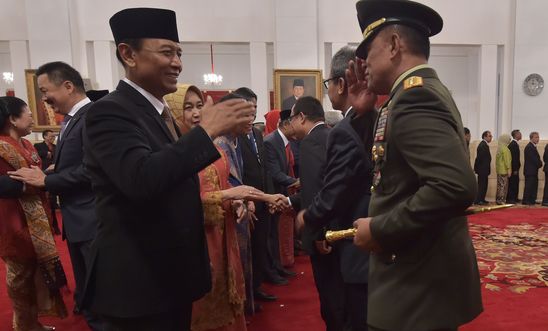 President Widodo's new role for General Wiranto (right) appears to be a rebuke to the UN © AFP/Getty Images
General Wiranto appointed country's top security official despite indictment by UN for crimes against humanity
The Indonesian president Joko Widodo's decision to make a former army general indicted for human rights crimes the country's most powerful security official a day after Indonesia ordered the execution of 14 death row prisoners, shows contempt for human rights, said Amnesty International.
Earlier today General Wiranto was appointed Indonesia's Coordinating Minister for Politics, Law, and Security Affairs, with his office overseeing numerous ministries and other state institutions. One of these is the Attorney General's office, which has noticeably failed to investigate Wiranto's alleged responsibility for human rights crimes in East Timor in 1999.
An inquiry initiated in 1999 by Indonesia's National Commission on Human Rights said that Wiranto had been aware of "widespread and organised" violations of human rights during the East Timor independence referendum of 1999. The commission concluded that Wiranto had ultimate responsibility for the breakdown of security after the announcement of the referendum result, though the general was never charged in Indonesia. However, in 2003 the UN-sponsored East Timor Tribunal indicted Wiranto - then Indonesia's Minister of Defence and Security, and Commander of Armed Forces - for crimes against humanity in connection with the events in East Timor.
Currently Wiranto is the chairman of the Hanura (People's Conscience) Party which supported Widodo during his 2014 presidential campaign. Wiranto himself ran unsuccessfully for the Indonesian presidency in 2004, and (again unsuccessfully) for the vice-presidency in 2009. 
Amnesty International's Deputy Director for South East Asia and the Pacific, Josef Benedict, said:
 

"This is adding insult to injury. 

 

"A day after ordering a fresh round of executions, President Widodo has now decided to hand control of the country's security apparatus to someone was indicted for crimes against humanity by a UN sponsored tribunal."
14 face execution within days
Yesterday, Amnesty warned that at least 14 people on death row in Indonesia could be executed within days - possibly by Friday - many of them for drugs offences. Amnesty is especially concerned that some of the 14 - four Indonesian and ten foreign nationals, including a Pakistani, an Indian, a Zimbabwean, a Senegalese, a South African and five Nigerians - could face the firing squad despite being convicted in unfair trials (for more information, go
here
).