Seamus Heaney praises Mandela on becoming Amnesty 'Ambassador of Conscience'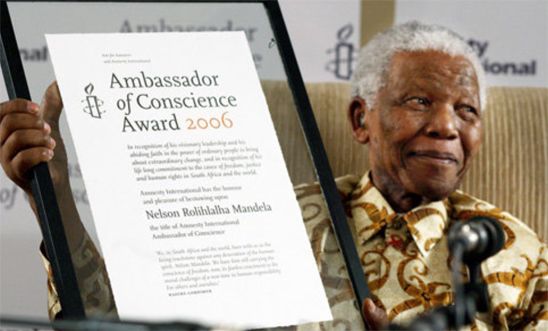 Nobel Literature Laureate Seamus Heaney, whose poem From the Republic of Conscience first inspired the "Ambassador of Conscience" Award, was the first to congratulate Mr. Mandela.
"To have written a line about 'hope and history' rhyming for Mr. Mandela in 1990 is one thing," said Seamus Heaney. "To have the man who made them rhyme accept the Award inspired by my poem is something else again."
Vaclav Havel, who received the inaugural Award in 2003, joined in the congratulations.
"I am convinced that the wise decision of the Amnesty International jury will enhance the attention dedicated to its human-rights activities all over the world."
The Award will be presented to Mr. Mandela by the distinguished South African writer and Nobel Literature Laureate Ms. Nadine Gordimer in Nelson Mandela House in Johannesburg, South Africa on 1 November 2006.
"More than any living person, Nelson Mandela has come to symbolise all that is hopeful and idealistic in public life," said Bill Shipsey, founder of Art for Amnesty, the organization's global artist support network that organises the annual Award.
"His poignant example and personal and political leadership since emerging from prison in February 1990 have been a source of inspiration for millions around the world. He has become the symbol of what it means to be a truly good global citizen."
Recently, Nelson Mandela's outspoken advocacy on behalf of millions of HIV/AIDS sufferers -- particularly in sub-Saharan Africa -- and his insistence that HIV/AIDS is a human rights issue has ensured that the plight of those with HIV/AIDS remains an urgent global concern.
"Today, we honour and pay tribute to the life and work of Nelson Mandela in the cause of freedom and justice in South Africa and around the world," said Irene Khan, Amnesty International's Northern Ireland educated Secretary General.
"But we fully recognize that it is he in fact who has bestowed a great honour on Amnesty International by accepting this Award."
Background
Amnesty International's "Ambassador of Conscience" Award recognises exceptional individual leadership and witness in the fight to protect and promote human rights.
The Award -- inspired by a poem written for Amnesty International by Nobel Laureate Seamus Heaney -- aims to promote the work of the organization by association with the life, work and example of its 'Ambassadors', who have done much to inspire the world through their work and personal example.
Nelson Mandela joins past winners of the distinguished human rights award -- including U2, Vaclav Havel and former UN High Commissioner for Human Rights Mary Robinson -- as global "Ambassadors of Conscience".