Scottish Conservative leader urges marriage equality in Northern Ireland Pride lecture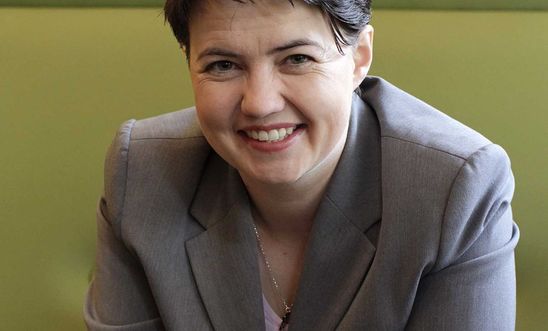 Scottish Conservative leader Ruth Davidson will encourage Northern Ireland to introduce equal marriage for same-sex couples tonight when she delivers a speech in Belfast.
The leader of Scotland's official opposition will deliver the Amnesty International Belfast Pride Lecture on the theme, 'Marriage Equality: From Scotland With Love', in a bid to encourage the region to legislate for same-sex marriage.
The Scottish Conservative leader helped to successfully campaign for people in the Republic of Ireland to vote in favour of gay marriage last year.
Scottish Conservative leader Ruth Davidson said:
"I'm honoured to have been invited to Belfast to give the Amnesty Pride lecture.
"As a practicing Christian, a protestant and a unionist who is engaged to a Catholic Irishwoman, for me, equal marriage isn't about one religion, country or community.
"It is about people in Northern Ireland being afforded the same rights as everybody else.
"Scotland is a better place today because of equal marriage and I want to take that positive message from our experiences here to Belfast and beyond."
Patrick Corrigan, Amnesty International's Northern Ireland Programme Director, said:
"We're delighted to have Ruth Davidson in Belfast to deliver a strong message in support of marriage equality. We look forward to Northern Ireland joining Scotland and every other part of these islands in legislating for equal civil marriage.
"Loving, committed couples, whether same-sex or opposite sex, and their families should be equally valued and respected under the law. We know there is overwhelming support among the Northern Ireland public for equal marriage and we hope the Assembly will soon reflect that support through legislation."
Ruth Davidson has been leader of the Scottish Conservatives since November 2011. In 2015, she appeared with her partner Jen Wilson in a Scottish Conservative election broadcast promoting the virtues of family and subsequently encouraged a Yes vote in the Irish marriage referendum, saying that she would love to have the chance to get married in Ireland to Wexford woman Jen. In May 2016 Ruth became leader of the official opposition in the Scottish Parliament. Later that month she "popped the question" to Jen while on a break to Paris. Jen said yes.
The speech, part of the Belfast Pride festival, will take place before a capacity audience at the MAC theatre in Belfast, and will be followed by a question-and-answer session hosted by broadcaster Marc Mallett.