Saudi arms ship: campaigners track movements of vessel laden with weapons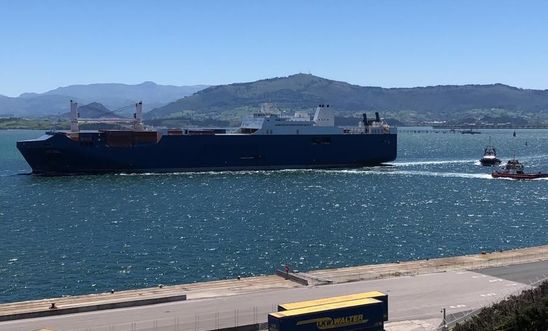 The Bahri Yanbu leaving the port of Santander in Spain earlier this afternoon © Pasaje Seguro
The 'Bahri Yanbu', laden with Belgian weapons, docked at Tilbury last week
Is now headed to Italy after being blocked by protesters in France 
'Was there a transit licence for this vessel to dock at a UK port?' - Oliver Feeley-Sprague
Responding to the latest news concerning the voyage of a Saudi Arabian vessel - the Bahri Yanbu - laden with arms and currently sailing toward the port of Genoa in Italy, Ara Marcen Naval, Amnesty International's Deputy Director for Arms Control and Human Rights, said:
"This is a serious test of EU countries' resolve to uphold their obligations under the Arms Trade Treaty and EU Common Position on Arms Exports. Several states have failed this test in the space of just a few days.
"No EU state should be making the deadly decision to authorise the transfer or transit of arms to a conflict where there is a clear risk they will be used in war crimes and other serious violations of international law."
According to a published export schedule for Saudi Arabian state-owned shipping vessels, the Bahri Yanbu set sail from Corpus Christi in the USA on 2 April 2019, destined for Jeddah in Saudi Arabia. It then called at several other US ports and one Canadian port before crossing the Atlantic and stopping in Germany, Belgium and the UK earlier this month. 
On 3 May, it was reportedly loaded with six containers of Belgian-manufactured arms at Antwerp. According to various sources, the vessel was due to dock at Sheerness in Kent on or around 7 May, but after a brief period in the Thames estuary instead moored at Tilbury docks for a number of hours on 7 May. The vessel was then due to dock at the French port of Le Havre to receive additional arms on 8 May, but following legal action by French NGOs and increased public scrutiny, it continued its voyage without stopping in France and made an unscheduled stop at Santander in northern Spain yesterday. Its next scheduled port of call is in Genoa in Italy, originally planned for 16 May.
Amnesty activists in Belgium, France, Spain and Italy have been monitoring the Bahri Yanbu's voyage around Europe. The activists have joined protests and co-authored a letter to the Spanish authorities calling on them not to authorise its transit through Spanish waters. Amnesty will highlight its concerns at a meeting later this week of the European Council's Working Party on Conventional Arms Exports. 
Oliver Feeley-Sprague, Amnesty International UK's Arms Expert, said:
"The phantom appearance of this arms ship on our shores begs numerous questions: was there a transit licence for this vessel to dock at a UK port? Was the UK Government aware it would try to dock at Sheerness, and what happened when it docked at Tilbury?

"It's already well-known that the UK has been allowing the export of billions of pounds of arms to Saudi Arabia despite the Saudi-led Coalition having killed thousands of Yemeni civilians. What we don't know is - how readily has the UK allowed other suppliers of weapons to Saudi Arabia to make use of UK facilities."
UK is Europe's biggest arms exporter to Saudi Arabia
According to the EU's reporting on arms exports, EU member states issued at least 607 licences worth over 15.8 billion euros to Saudi Arabia in 2016. The main European exporters of conventional arms to Saudi Arabia include the UK, France, Spain, Italy and Bulgaria. Between 2013 and 2018, Saudi Arabia accounted for nearly half of the UK's and a third of Belgium's arms exports. Other countries - including Germany, the Netherlands and Norway - have imposed restrictions on weapons sales to the Saudi and UAE-led coalition.
In Yemen, the Saudi Arabia/UAE-led military Coalition has used arms exports which have caused thousands of civilian deaths and injuries, including as a result of attacks that violated international humanitarian law. This has exacerbated the world's worst humanitarian crisis, where 2.2 million people have been displaced from their homes and 22 million people are in need of humanitarian assistance.