Saudi Arabia: wider women's rights reforms should follow guardianship announcement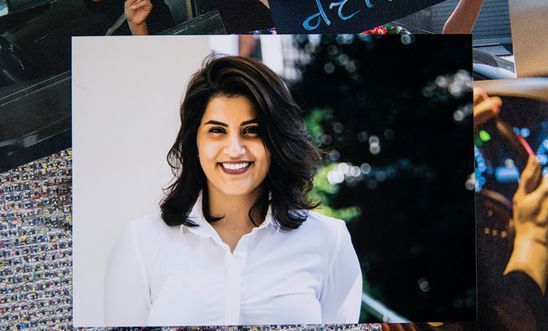 Loujain al-Hathloul, who campaigned for women to be able to drive in Saudi Arabia, is one of the women's rights activists currently in jail © Marieke Wijntjes
Authorities urged to end their crackdown on women's rights activists, including Loujain al-Hathloul, Samar Badawi and Nassima al-Sada
Women will still need a guardian's permission to be married or to be released from prison
'These changes are a clear testament to the tireless campaigning of women's rights activists' - Lynn Maalouf
Saudi Arabia must follow up on crucial women's rights reforms after today's announcement that some major restrictions imposed on women as part of the country's repressive male guardianship system are to be eased, said Amnesty International.
Amnesty is calling on the Saudi Arabian authorities to ending its ongoing persecution of women's rights defenders in the country, immediately and unconditionally releasing those who are currently detained for their peaceful activism and dropping charges against others.  
For decades, women in Saudi Arabia have been subjected to repressive male guardianship laws that have imposed restrictions on their rights to travel independently, work or study - shackling important aspects of women's lives to their male relatives.
The amendments to the guardianship laws published today will allow women over the age of 21 to obtain passports, which will significantly ease travel without the permission of a guardian. They also grant women the right to register marriages, divorces, births and deaths, and to obtain family records. 
However, women will still require a guardian's permission to be released from prison or to leave a shelter where they have sought protection from domestic abuse or violence. They are also still required to seek their guardian's approval to marry. 
Lynn Maalouf, Amnesty International's Middle East Research Director, said: 
"The reforms announced today are a significant but long overdue step forward for women's rights. 

"These changes are a clear testament to the tireless campaigning of women's rights activists who have battled against rampant discrimination in Saudi Arabia for decades.

"If Saudi Arabia wants to show the world it is truly serious about improving the rights of women, the authorities must drop all charges against the defenders of women's rights who have been crucial in pushing for these kinds of reforms through their activism.

"They must immediately and unconditionally release all those who are in detention for fighting for these most basic of rights."
Crackdown on women's rights activists
Numerous women's rights activists in Saudi Arabia have been subjected to a swingeing crackdown during the past year, with several of them currently detained, on trial or facing travel bans for their peaceful activism. Some of those detained during a wave of arrests last year endured torture, sexual abuse and other forms of ill-treatment during the first three months of their detention. They were detained incommunicado with no access to their families or lawyers. 
Several women face charges related to their human rights work, including "promoting women's rights" and "calling for the end of the male guardianship system." Three of them - Loujain al-Hathloul, Samar Badawi and Nassima al-Sada - remain behind bars, while several others have been temporarily released but remain on trial.
At least 14 individuals who have supported the women's rights movement, including male relatives of women human rights defenders, are also currently detained without charge since being arbitrarily arrested in April. These include Salah al-Haidar, the son of human rights activist Aziza Al-Yousef, who was temporarily released but remains on trial. Others include Abdullah al-Duhailan, a journalist, novelist and advocate for Palestinian rights, and Fahad Abalkhail, who has supported the Women to Drive Campaign.