Saudi Arabia: 'one year since flogging' vigil (Fri 8 Jan) for Raif Badawi as crackdown intensifies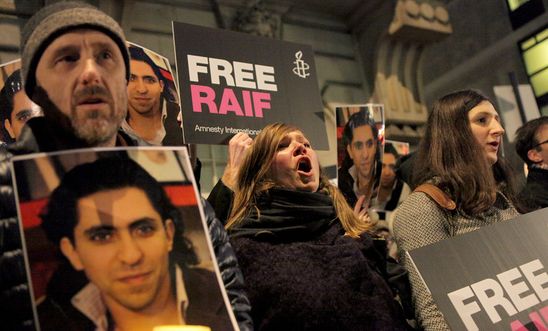 Raif Badawi's case caused international outrage last year
Activists will mount demonstration at Saudi Arabian Embassy in central London on Friday, 11am-12noon
Activists' placards will say 'King Salman: end the crackdown'
Amnesty International is holding a protest vigil for the jailed blogger and free speech activist Raif Badawi outside the Saudi Arabia Embassy in central London on Friday morning to mark the one-year anniversary of his flogging last year, as a human rights crackdown in the Kingdom continues to intensify.
On 9 January 2015, Badawi was lashed 50 times in a public square in Jeddah, part of a sentence of 1,000 lashes and ten years in prison for setting up an online forum for public debate and for "insulting Islam". Further floggings were delayed, initially due to medical concerns and since then for unknown reasons. 
Despite an international outcry - including demonstrations around the world and over one million people supporting an Amnesty campaign for the blogger - Mr Badawi, a 31-year-old father-of-three, is still in jail and could still be flogged at any time.
Amnesty activists will take a 250,000-strong petition calling for Mr Badawi to be released to the Saudi embassy, as well as a separate petition for the release of Badawi's lawyer, Waleed Abu al-Khair, who has also been unfairly jailed in the country's human rights crackdown. 
Activists holding large photographs of Mr Badawi and Mr Abu al-Khair as well as #FreeRaif and #FreeWaleed placards will line the street outside the embassy in London's Mayfair area. Other placards will say "King Salman: end the crackdown". Amnesty is currently running a
campaign
for Waleed Abu al-Khair.
UK stance criticised
Amid growing international concern over Saudi Arabia's human rights record - with mass executions and numerous prisoners of conscience at home, and thousands of civilians killed in Saudi-led airstrikes in Yemen - Amnesty has been sharply critical of the UK Government's stance on the issue. A Foreign Office minister described Saudi Arabia's execution of 47 people on 2 January as a "disappointment", while ministers have refused to halt arms sales to Saudi Arabia despite expert opinion that the sales contravene the Government's international legal obligations over avoiding the risk that they will be used to commit human rights violations in Yemen. 
Friday's protest
Where: Saudi Arabia Embassy, Mayfair, London (note: protest will be at rear of embassy in Curzon Street, opposite Curzon Mayfair Cinema)
What: Vigil with Raif Badawi and Waleed Abu al-Khair photographs and placards 
Who: Kate Allen, Amnesty International UK Director and fellow campaigners 
When: 11-12, Friday 8 January 2016
To film or photograph the event, or to arrange an interview with Kate Allen, please contact the Amnesty International UK media team (at the event: Neil Durkin, 07972 718826).