Saudi Arabia: New arrests 'shamelessly targeting' journalists and activists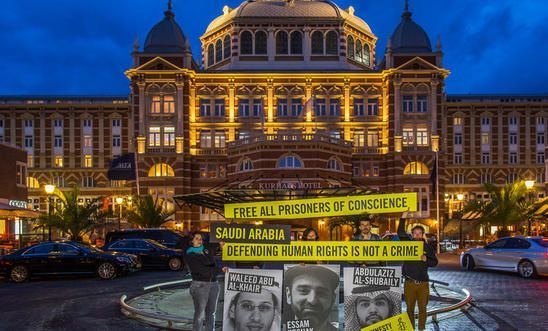 Responding to reports that the Saudi Arabian authorities have arrested at least seven individuals - some of whom are journalists, writers and academics - Lynn Maalouf, Amnesty International's Middle East Director of Research, said:
"In their continuing crackdown, it is no coincidence that the Saudi Arabian authorities are shamelessly targeting those citizens who are part and parcel of the society's vibrant intellectual, artistic, activist landscape.

"By targeting them, they are signalling to their entire people that there will be zero tolerance of any form of criticism, let alone questioning, of the state's authoritarian practices.

"We are deeply concerned for the well-being of those detained since yesterday. The Saudi Arabian government must reveal their whereabouts, ensure they are protected from torture and other ill-treatment, and allow them access to lawyers, as well as contact with their families.

"We call on the authorities to immediately disclose the charges brought against those detained - and if they are detained for their peaceful exercise of their right to freedom of expression, then they should be released immediately and unconditionally."
Those arrested include Salah al-Haidar, the son of human rights activist Aziza Al-Yousef, who was temporarily released just a few days ago after more than 10 months in detention. Others include Abdullah al-Duhailan, a journalist, novelist and advocate for Palestinian rights, and Fahad Abalkhail, who has supported the Women to Drive Campaign.
Background
To date, there is no official information about the whereabouts of any of those detained in this latest crackdown, and reports of further arrests are still emerging on social media. Two of the detained individuals are dual US-Saudi citizens.
The seven people detained yesterday are amongst a group of at least 13 Saudi Arabian writers and journalists who have been placed under travel ban since February 2019.
Last month, Anas al-Mazrou, a lecturer at King Saud University was also detained after posing a question regarding the whereabouts of the detained women activists in a public panel at the Riyadh Book Fair. His whereabouts remain unknown.