Saudi Arabia has executed 151 people so far this year - highest for two decades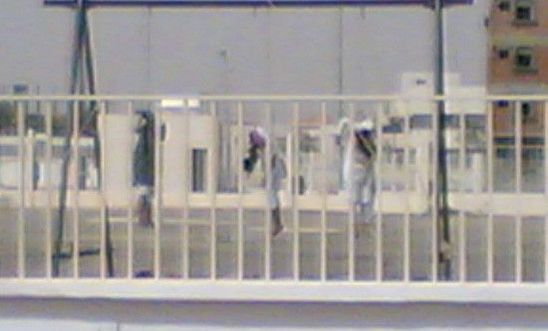 An execution of three men in the city of Al-Jouf in 2005 © Private
'The Saudi Arabian authorities appear intent on continuing a bloody execution spree' - James Lynch
At least 151 people have been executed in Saudi Arabia so far this year - the highest recorded figure since 1995 - in an unprecedented wave of executions marking a grim new milestone in the Saudi Arabian authorities' use of the death penalty, said Amnesty International. 
So far in 2015, on average one person has been executed every other day. 
According to Amnesty's records, the last time Saudi Arabia executed more than 150 people in a single year was in 1995, when 192 executions were recorded.  Annual execution tolls for Saudi Arabia in recent years have rarely exceeded 90 in a year. In 2014 there were exactly 90 executions, meaning that so far in 2015 there has been a 68% increase in executions compared to the whole of last year. 
Almost half of the 151 executions so far this year were for offences that do not meet the threshold of "most serious crimes" (involving intentional killing) - for which the death penalty can even be imposed under international human rights law. This blatantly contradicts the Saudi Arabian authorities' claim to apply the death penalty with strict safeguards in place. 
Of the 63 people executed this year for drug-related charges, the vast majority - 45 people - were foreign nationals. The total number of foreign nationals executed so far this year is 71, further evidence of how the death penalty is disproportionately used against foreigners in Saudi Arabia. Foreign nationals, mostly migrant workers from developing countries, are particularly vulnerable as they typically lack knowledge of Arabic and are denied adequate translation during their trials.
Concerns over the increase in executions have been compounded by the apparent use of the death penalty as a political tool to clamp down on Shi'a Muslim dissidents. Last month Saudi Arabia's Supreme Court upheld the death sentence of Sheikh Nimr Baqir al-Nimr, a prominent Shi'a Muslim cleric from the Eastern Province, after a politicised and grossly unfair trial at Saudi Arabia's notorious counter-terror court. This followed news that Al-Nimr's nephew, Ali Mohammed Baqir al-Nimr, and two other young Shi'a activists, Darwood Hussein al-Marhoon and Abdullah Hasan al-Zaher, who were arrested as juveniles after participating in anti-government rallies, had also had their death sentences upheld. All three have said they were tortured and denied access to a lawyer during their trials. The three have recently been transferred to solitary confinement, heightening fears that their executions could be imminent. 
Amnesty International Middle East and North Africa Deputy Director James Lynch said:
"The Saudi Arabian authorities appear intent on continuing a bloody execution spree which has seen at least 151 people put to death so far this year - an average of one person every two days.

 

"The use of the death penalty is abhorrent in any circumstance but it is especially alarming that the Saudi Arabian authorities continue to use it in violation of international human rights law and standards, on such a wide scale, and after trials which are grossly unfair and sometimes politically motivated."
Non-lethal offences and child offenders
Death sentences in Saudi Arabia are frequently imposed for non-lethal offences - such as drug-related ones - and after unfair trials which lack basic safeguards for fair trial. Saudi Arabia also continues to impose death sentences on and execute people below 18 years of age, in violation of the country's obligations under international customary law and the Convention on the Rights of the Child. For more background, see Amnesty's
44-page report
published in August.