Saudi Arabia: fears mount for jailed blogger Raif Badawi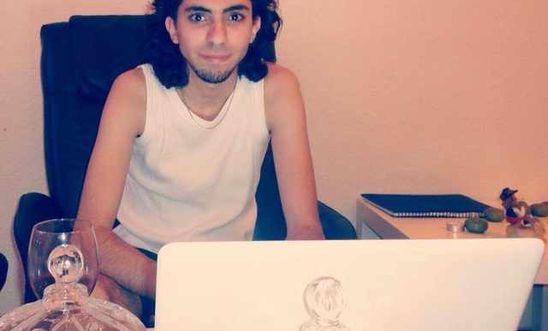 Raif Badawi has been in jail for three years and lashed 50 times already
Saudi Arabian Embassy in London urgently lobbied to prevent further flogging
'We urge King Salman to make this the occasion to free Raif Badawi and reunite him with his family' - Said Boumedouha
Amnesty International has called for the threat of further lashes to be lifted from the jailed Saudi Arabian blogger Raif Badawi and for him to be released immediately and unconditionally.
Amnesty is mobilising its supporters in an effort to stop any further flogging of Badawi after the country's Supreme Court announced last Saturday that it had upheld Badawi's ten-year prison sentence and punishment of 1,000 lashes with no room to appeal the ruling.
Badawi, who was originally sentenced in May last year for setting up an online forum for public debate and for "insulting Islam", was lashed 50 times in a public square in Jeddah on 9 January, but further floggings were delayed, initially due to medical concerns and then for unknown reasons. 
Ensaf Haidar, the blogger's wife, and their three children have been granted asylum in Canada, from where she has campaigned extensively for his release, while more than a  million people around the world have supported an Amnesty campaign for Badawi's release.
Amnesty International Middle East and North Africa Deputy Director Said Boumedouha said:
 

"After languishing behind bars for five months since his last public flogging, the looming threat of a resumption of this cruel and inhuman punishment has hung over Raif Badawi. 

 

"This outrageously cruel punishment must be stopped and the authorities must quash Raif Badawi's conviction and sentence.

 

"Millions of Amnesty International supporters and other activists, journalists and political leaders around the world have spoken out loud and clear: Raif Badawi is a prisoner of conscience who must be released immediately and unconditionally. 

 

"The holy month of Ramadan which is about to begin has traditionally been an occasion for release of prisoners. Accordingly, we urge King Salman to make this the occasion to free Raif Badawi and reunite him with his family, who have also suffered every brutal step of his unfair trial and punishment."
International outrage
The UN High Commissioner for Human Rights called the flogging "at the very least, a form of cruel and inhuman punishment ... prohibited under international human rights law, in particular the Convention against Torture, which Saudi Arabia has ratified". Political leaders in the USA, a strategic ally of Saudi Arabia, have called the punishment of Badawi "inhumane", while European Union leaders have pledged to engage the Gulf Kingdom's leaders to ensure freedom of expression for all is respected. 
In a 7 March statement, Saudi Arabia's Foreign Affairs Ministry expressed "surprise and dismay" at the international campaign demanding Badawi's release. It added that "the kingdom unequivocally rejects any aggression under the pretext of human rights".   
Saudi Arabia's human rights clampdown
Saudi Arabia's government has systematically wiped out virtually all human rights activism in the country in the past three years, some of it through "counter-terrorism" legislation introduced in February 2014. Badawi's lawyer, Waleed Abu al-Khair, was the first human rights activist to be sentenced under this law. 
Meanwhile, in Jeddah, on 3-4 June, Saudi Arabia hosted the fifth session of the Istanbul Process, a forum set up to propose practical measures to combat religious intolerance. One of the premises of this Process is the importance of ensuring freedom of opinion and expression as key to exercising the right to freedom of religion. Ironically, just a few hundred metres away from this meeting, Badawi was languishing in a prison cell and the Saudi Arabian Supreme Court was delivering its judgment upholding his sentence for peacefully exercising his right to freedom of expression.