Saudi Arabia: death sentence against leading Shi'a cleric is 'shocking'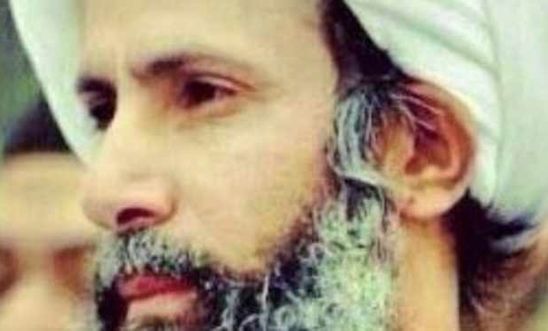 Sheikh Nimr al-Nimr © Private
'The death sentence against Sheikh Nimr Baqir al-Nimr is part of a campaign by the authorities in Saudi Arabia to crush all dissent' - Said Boumedouha
A death sentence passed today against a dissident Shi'a Muslim cleric in Saudi Arabia after a deeply flawed trial has been branded "shocking" by Amnesty International, with the organisation calling for the sentence to be quashed.
Sheikh al-Nimr, who is the Imam of al-Awamiyya mosque in al-Qatif in eastern Saudi Arabia, is a vocal critic of the Saudi Arabian authorities' harassment of Shi'a Muslims. He was initially charged with banditry and other offences after security agents claimed he had opened fire on them during his arrest on 8 July 2012. Al-Nimr was shot and wounded during the arrest. 
Al-Nimr was ill-treated throughout his two-year detention, most of which he spent in solitary confinement in military hospitals and at the al-Ha'ir prison in Riyadh. He was denied surgery to remove a bullet in his back and for his right leg, which remains paralysed since he was shot during his arrest. Meanwhile, his family and lawyers were often denied access to him, including during interrogations. 
Al-Nimr was eventually charged with "disobeying the ruler", "inciting sectarian strife" and "encouraging, leading and participating in demonstrations", with evidence taken from religious sermons and interviews attributed to the cleric. Amnesty's review of these texts confirms that he was exercising his right to free expression and not inciting violence. Some of the charges, such as disobeying the ruler, should not even be considered offences at all as they criminalise the right to freedom of expression. Other charges are vague and have been used simply to punish Al-Nimr for his peaceful activities. 
Meanwhile, Al-Nimr's brother, Mohammad al-Nimr, was reportedly arrested after the sentence was passed at the Specialised Criminal Court in Riyadh today. The reason for Mohammad's arrest is as yet unknown, as are his present whereabouts - however, it is believed he was detained after tweeting about his brother's death sentence. 
Amnesty International Middle East and North Africa Deputy Director Said Boumedouha said:
"The death sentence against Sheikh Nimr Baqir al-Nimr is part of a campaign by the authorities in Saudi Arabia to crush all dissent, including those defending the rights of the Kingdom's Shi'a Muslim community.

 

"The shocking death sentence against Sheikh al-Nimr followed by the arrest of his brother in court today illustrate the lengths Saudi Arabia will go to in their quest to stop Shi'a activists from defending their rights. Sheikh al-Nimr must be released and Saudi Arabia must end its systematic discrimination and harassment of the Shi'a community.

 

"Sheikh al-Nimr's trial has been seriously flawed. Eyewitnesses, whose testimonies were the only evidence used against him, were not brought to court to testify. This violates the country's own laws. The Sheikh was denied the most basic means to prepare for his defence and was not represented by legal counsel for some of the proceedings because the authorities did not inform his lawyer of some dates of the hearings."   
Crackdown in Eastern Province
Saudi Arabians in the Kingdom's predominantly Shi'a Eastern Province have been calling for reforms since before February 2011, when the "Arab Spring" uprisings swept through the Middle East and North Africa. The Saudi authorities have responded by cracking down on those suspected of taking part in or supporting protests, or expressing views critical of the state. Members of the Shi'a community have been arrested, imprisoned and harassed for holding collective prayer meetings, celebrating Shi'a religious festivals and for breaching restrictions on building mosques and religious schools. 
In May and June this year at least five Shi'a Muslims detained in connection with the 2011 and 2012 protests were sentenced to death on trumped-up charges related to their activism.  Amongst the five was Sheikh al-Nimr's nephew, Ali al-Nimr, who was 17 at the time of his arrest. He has alleged that he was tortured into "confessing".