Saudi Arabia carries out 90th execution of the year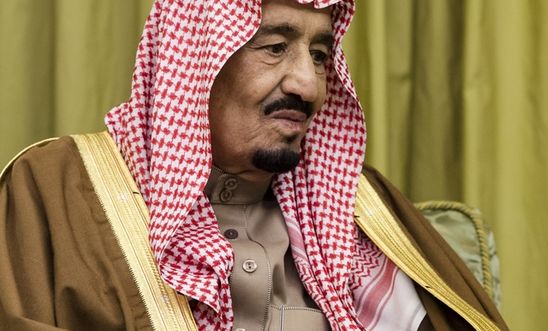 King Salman has overseen an unprecedented surge in executions © YOAN VALAT/AFP/Getty Images
Pakistani man's killing takes executions to same number as for whole of 2014
Amnesty International has condemned Saudi Arabia's "alarming surge" in executions as the country carried out its 90th execution of the year, equalling the number of people executed in the Kingdom during the whole of 2014.
Today's execution - carried out in Riyadh - was of a Pakistani man called Ihsanallah Bout Mohamed Amin who was convicted on drug-related charges.
The Saudi execution spree marks an unprecedented spike in judicial killings country already ranked among the most prolific executioners in the world.  
Almost half of the executions carried out so far this year have been for drug-related offences, which don't fall into a recognised international category of "most serious crimes", and the use of the death penalty for such offences violates international law. The Saudi Arabian authorities themselves do not categorise drugs offences as crimes subject to divinely-ordained punishment under Shari'a law - instead the use of the death penalty in such cases is discretionary.
Saudi Arabia already ranks among the top three executioners in the world, surpassed only by China and Iran. The country's most common method of execution is beheading, often conducted in public squares. Occasionally prisoners in some southern provinces are executed by firing squad.
Amnesty International Middle East and North Africa Deputy Director Said Boumedouha said: 
 

"With the year yet to pass its midpoint, the Gulf Kingdom has raced towards this shocking toll at an unprecedented rate. 

 

"This alarming surge in executions surpasses even the country's own previous dreadful records.

 

"The use of the death penalty is cruel and inhumane in any circumstance, but it is even more outrageous when meted out as a punishment against someone convicted in a trial that itself makes a mockery of justice."
Routinely unfair trials
Many defendants in Saudi Arabia, including those sentenced to death, are convicted after flawed court proceedings that routinely fall far short of international standards for a fair trial. They are often convicted solely on the basis of "confessions" obtained under duress, denied legal representation in trials which are sometimes held in secret, and are not kept informed of the progress of the legal proceedings in their case. For some crimes punishable by death, the Supreme Court has recently confirmed that judges do not need to prove guilt but can sentence someone to death at their own discretion based on suspicion alone.
Shi'a protesters and cleric sentenced to death
Worryingly, a significant number of Shi'a protesters have been sentenced to death in the past two years, often in relation to protests in the Eastern Province since 2011. Among those facing execution is Saudi Arabia's most prominent Shi'a cleric Sheikh Nimr al-Nimr, who was sentenced to death last October after a deeply flawed trial. His nephew, Ali-al-Nimr, a child offender, was sentenced to death last May solely based on "confessions" that he claimed were extracted under torture. The imposition of death sentences against individuals who were below 18 years of age when the crime was committed is prohibited under international law. 
Six other Shi'a protesters have been sentenced to death in the past year and scores of others await trial on charges for which the prosecution has called for the death penalty. Many of these have complained of ill-treatment in detention and of unfair trials.