Russian authorities must not crack down on Putin inauguration protests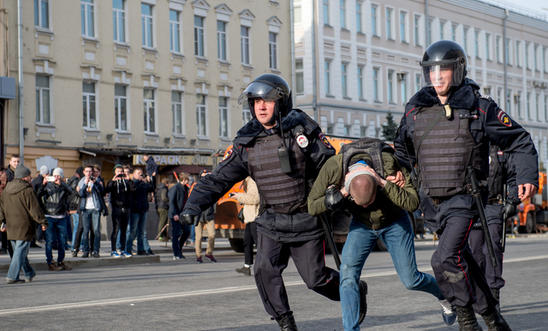 For the past 18 months the Russian authorities have been cracking down hard on protests © ALEXANDER UTKIN/AFP/Getty Images
'He's not our tsar' protests called by Aleksei Navalny planned in dozens of cities tomorrow
Amnesty spokespeople on the ground available for interview
The Russian authorities must allow protests tomorrow ahead of the forthcoming presidential inauguration of Vladimir Putin, Amnesty International said today.
The authorities in Moscow and more than 30 other Russian cities have refused to permit demonstrations by supporters of opposition leader Aleksei Navalny on Saturday, two days before the presidential inauguration on Monday.
Despite government attempts to block tomorrow's protests, Mr Navalny has called on his supporters to take to streets under the slogan "He's not our tsar." 
This would be the fifth mass protest organised by Navalny and his supporters across dozens of cities and towns over the past 18 months. The previous events have resulted in the mass detention of peaceful protesters.
Denis Krivosheev, Amnesty International's Eastern Europe and Central Asia Deputy Director, said:
"The Russian authorities must learn from their past mistakes, when the repeated refusal to grant permission to hold protest rallies has been a patent violation of human rights.

"Similarly, the subsequent violent crackdowns by the police on peaceful demonstrations over the past year - in which hundreds of people have been arbitrarily detained - have shown the persistent failure by the authorities to respect and protect the rights to peaceful assembly and personal liberty.

"Rather than brutally stamping out dissent, the Russian government should respect the rights to freedom of expression and peaceful assembly. 

"Thousands are expected to take to the streets in Moscow and other Russian cities on Saturday, and it is their right to protest."