Russia: Ukrainian film-maker's 20-year jail sentence compared to 'Stalinist-era show trials'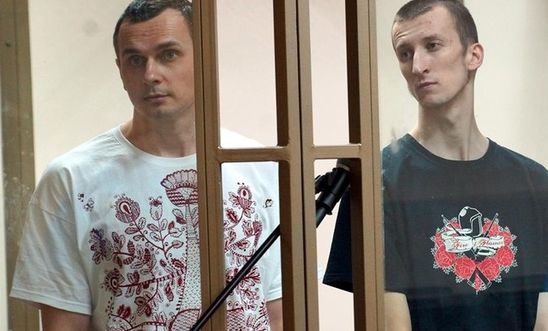 Oleg Sentsov (l) and Aleksandr Kolchenko have received long sentences from a military court © Anton Naumlyuk
Oleg Sentsov and ecologist Aleksandr Kolchenko jailed after unfair trial in Russia military court
Long prison sentences handed down to two Ukrainian activists by a Russian military court today are a blatant injustice and are comparable to "Stalinist-era show trials" of dissidents, Amnesty International has said. 
The sentences came after a patently unfair trial marred by credible allegations of torture. 
The court in the Russian city of Rostov-on-Don sentenced film director Oleg Sentsov to 20 years and ecologist and anti-fascist activist Aleksandr Kolchenko to ten years on "terrorism" charges, charges which they both deny and claim were politically-motivated. The two were accused of arson attacks on pro-Russian groups following Russia's occupation of Crimea last year. 
International humanitarian law requires that Russia, as the occupying power in Crimea, prosecute any defendants in civilian courts under Ukrainian law. 
Amnesty attended the trial, including today's sentencing hearing in Rostov-on-Don.
Amnesty International's Eurasia Researcher Heather McGill said:
 

"This whole trial was designed to send a message. It played into Russia's propaganda war against Ukraine and was redolent of Stalinist-era show trials of dissidents.

 

"This trial was fatally flawed and credible allegations of torture and other ill-treatment have been ignored by the court. Both Oleg Sentsov and one of the main witnesses for the prosecution have alleged that they were tortured. 

 

"Any testimony gained through torture and other ill-treatment must be thrown out, the 'terrorism' charges must be withdrawn, and Oleg Sentsov and Aleksandr Kolchenko should either be released or face a fair trial in a civilian court."