Russia: 'Heartless' charges against activist who supported detained colleague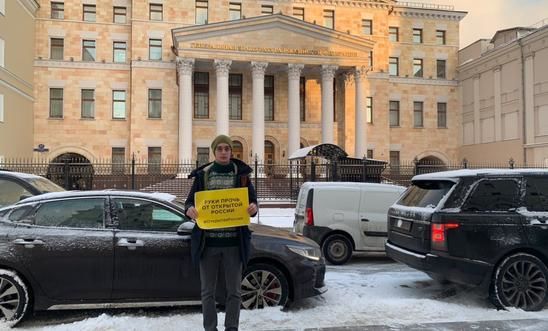 A protester outside the Prosecutor General's office in Moscow with a sign saying 'Hands off Open Russia' © Viktor Kotov
The Russian authorities must stop their vicious campaign against opposition movement Open Russia (Otkrytaya Rossia), Amnesty International said today, after an activist from the organisation was charged for posting solidarity messages about a recently detained colleague.
Roman Zaitsev was indicted last night under Russia's repressive "undesirable organisations" law for sharing Open Russia's articles about activist Anastasia Shevchenko and an Amnesty statement calling for her release.
In a further tragic twist, Shevchenko's 17-year-old daughter died in hospital this morning. The authorities refused Shevchenko permission to visit her until hours before she passed away.
Marie Struthers, Director for Eastern Europe and Central Asia at Amnesty International, said:
"The government's crackdown on Open Russia is not only absurd and vicious, it has also reached a new level of cruelty.

"The persecution of Roman Zaitsev for supporting Anastasia Shevchenko, just at the time of her profound personal tragedy, says a lot about Russia's heartless 'justice' system.

"If merely sharing a piece of news about an opposition group becomes a reason for prosecution it potentially puts at risk thousands of people who have reposted, retweeted or quoted Open Russia materials."

The Prosecutor's Office of the Central District of Volgograd last night charged Roman Zaitsev, Open Russia's regional coordinator, with "carrying out the activities of an undesirable organisation".
He is being prosecuted for reposting Open Russia's news and messages of solidarity for Anastasia Shevchenko, who is a prisoner of conscience.
Anastasia Shevchenko became the first ever person to be criminally charged with "repeated participation in the activities of an undesirable organisation" when she was placed under house arrest on 23 January. If convicted, she could face up to six years in prison for her peaceful activism.
A week after Shevchenko's arrest, her eldest daughter Alina was hospitalised with an acute respiratory condition (obstructive bronchitis). The authorities initially dismissed Shevchenko's request to visit her eldest daughter, who lived in a boarding school for children with special needs.
It was only late last night, hours before her daughter's passing, that Anastasia was finally given permission to see her.
Marie Struthers said:
"The callousness of the Russian authorities' campaign against Open Russia is unconscionable.

"Not only has the state placed an innocent person under house arrest for her peaceful activism, but in an act of ultimate cruelty it denied Anastasia Shevchenko the chance to take care of her dying daughter.

"Anastasia must be freed now, and the spiteful campaign against Open Russia and all peaceful dissenting voices in Russia must end."