Russia: fresh call for justice for Navalny on anniversary of poisoning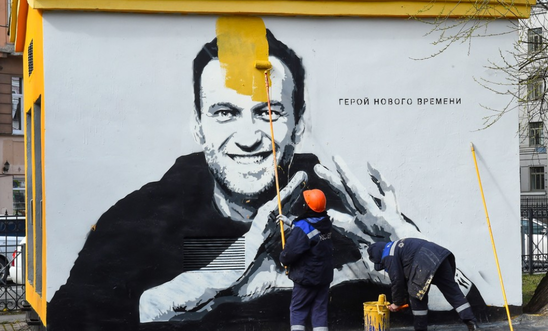 A worker paints over a mural of Navalny in Saint Petersburg in April this year © AFP via Getty Images
Activist's attempted murder through a Novichok nerve agent has never been properly investigated 
Navalny faces further charges while his supporters are persecuted 
'We reiterate our call for an immediate and impartial investigation into the attempted poisoning of Aleksei Navalny' - Agnès Callamard
The anniversary today of the poisoning of the Russian opposition activist Aleksei Navalny marks one year of shameful injustice, says Amnesty International.
Last week (11 August), Navalny - who is currently serving a politically-motivated two-and-a-half-year jail sentence in a penal colony - was additionally charged with the "creation of a non-profit organisation undermining the rights of citizens" under an obscure article of the Russian Criminal Code. He faces an additional prison sentence of up to three years if found guilty. 
During the past year, Navalny's supporters' calls for accountability have been brutally repressed, and those behind last year's attempted killing continue to enjoy absolute impunity. 
Agnès Callamard, Amnesty International's Secretary General, said: 
"One year ago today, the Kremlin's most vocal critic was attacked with a banned chemical weapon, an outrageous crime which should have been the subject of an urgent investigation by the Russian authorities.

"Instead, the Russian government chose to throw Aleksei Navalny behind bars on false grounds - in conditions which almost killed him - and to pursue a relentless campaign of reprisals against his supporters

"The Russian authorities' failure to investigate the attempt on Navalny's life is damning proof of their utter disregard for justice and for the right to life. We reiterate our call for an immediate and impartial investigation into the attempted poisoning of Aleksei Navalny, and for an end to the persecution of Navalny and his supporters.  

"Most urgently, we call on the Russian authorities to immediately and unconditionally release Aleksei Navalny, who is a prisoner of conscience deprived of liberty solely for exercising his right to freedom of expression. 

"The international community must do everything in its power to ensure those behind the poisoning are brought to justice; to end the unlawful detention of Aleksei Navalny; and to halt the spiralling campaign of repression which the Russian authorities have unleashed on their people."  
Poisoning and further repression
Aleksei Navalny, a leading Russian opposition activist and founder of the Anti-Corruption Foundation, collapsed while flying from Tomsk in Siberia to Moscow on 20 August 2020. He was transferred to Germany for treatment where he spent 18 days in a coma. International experts later concluded that Navalny had been poisoned with a Novichok-class military-grade nerve agent, which is prohibited under the Chemical Weapons Convention. 
Since then, the Russian authorities have failed to launch a meaningful investigation into the attempted killing, have blocked Navalny's lawyers' attempts to challenge their inaction in various courts, and have ignored strong evidence that Russian Federal Security Service agents were involved in the poisoning.  
After his subsequent return to Moscow on 17 January, Navalny was arrested and sentenced to two-and-a-half years in a penal colony for violating the probation terms of an earlier, politically-motivated sentence. The Anti-Corruption Foundation and the "Navalny Headquarters" support network were later listed as "extremist" and banned.