Russia: Alleged poisoning of Nalvalny must be investigated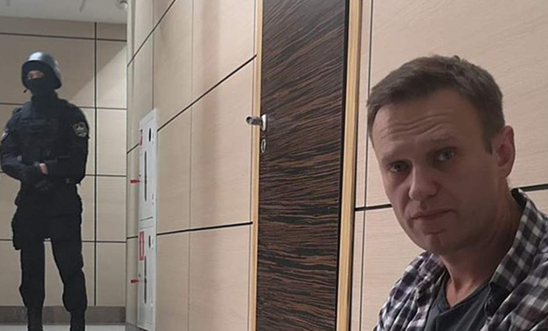 Hospital in Osmk should allow treatment from doctors the opposition leader trusts
Past cases of mysterious poisonings raise fears of targeted attempt on his life
'There must be a prompt and independent investigation into the circumstances surrounding his hospitalisation' - Natalia Zvyagina
Amnesty International is calling on the Russian authorities to fully investigate the circumstances surrounding the unexpected and serious deterioration in the health of opposition leader Aleksei Navalny, and allow him to be immediately diagnosed by - and receive treatment from - doctors that his family trusts.
Navalny was hospitalised and placed in intensive care in the city of Omsk in Siberia on his way back to Moscow from the city of Tomsk this morning.
Last year, Navalny was hospitalised after being detained under an "administrative arrest" for organising peaceful protests. On this occasion, in July 2019, the authorities claimed Navalny's serious health deterioration was the result of an allergic reaction, though Navalny himself believed he had been poisoned. No investigation into this affair is known to have occurred however.
Other high-profile cases of suspected poisoning of opposition figures in Russia have also occurred in recent years. Similarly, none of these incidents have been investigated.
Natalia Zvyagina, Director of Amnesty International's Moscow office, said:
"What has happened to Aleksei Navalny is undeniably similar to incidents involving other critics of the Russian authorities, including the politician Vladimir Kara-Murza Jr and Pussy Riot punk band producer Pyotr Verzilov.
"Given the grave allegations that have been suggested as the cause of Aleksei Navalny's illness, there must be a prompt and independent investigation into the circumstances surrounding his hospitalisation. If criminal intent is proven, those who ordered and perpetrated this crime must be brought to justice. 
"The administration of the hospital must provide full access to information about his treatment to his family and doctors of his or their choice.
"There have already been reports that his chosen doctor was not allowed to see the test results and was not informed of the course of treatment. In light of assumptions about possible poisoning, this only adds to suspicions."
Earlier suspected poisoning cases
Vladimir Kara-Murza Jr, a Russian journalist and politician who has lobbied the United States and the European Union to impose personal sanctions against President Putin's entourage, was hospitalised twice - in May 2015 and February 2017 - with symptoms of severe poisoning. Doctors indicated that the cause of the poisoning had been "the toxic effect of an unidentified substance". 
Pyotr Verzilov's doctors from the Charité clinic in Berlin, where the activist was taken for treatment after alleged poisoning in September 2018, came to the conclusion that the cause of his condition could be a substance that entered his body from outside. They were unable to determine its nature.