Russia: activists threatened with charges after raising torture allegations in Boris Nemtsov case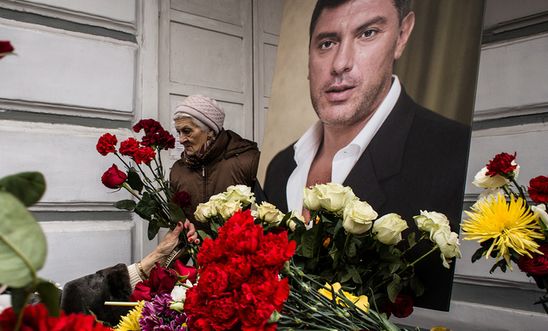 Mourners bringing flowers to a Boris Nemtsov memorial event at the Sakharov Museum in Moscow last week © Alexander Aksakov/Getty Images
'To ignore serious allegations that torture was used to force confessions would make a complete mockery of Russia's judicial system' - John Dalhuisen
The Russian authorities' threat to bring criminal charges against Eva Merkacheva and Andrei Babushkin - two human rights activists who published torture allegations from two men accused of the murder of the Russian opposition leader Boris Nemtsov - raises alarming questions over the fairness of the investigation, said Amnesty International.
Zaur Dadayev, one of at least six men suspected of killing Nemtsov, had told members of the Public Monitoring Commission - an independent group authorised to visit places of detention in Russia - that after his detention he was handcuffed and blindfolded with a bag placed over his head for two days. 
He said he confessed to the crime after the authorities promised they would release his friend. Meanwhile, another suspect in the case, Shaghid Gubashev, said he had been "beaten and tortured." Members of the Public Monitoring Commission reported that both Dadayev and Gubashev showed numerous marks on their bodies, and complained of being denied food and given hardly anything to drink for more than two days prior to their transfer to Moscow. 
The Investigative Committee of the Russian Federation has suggested that raising allegations that Dadayev was tortured into confessing and that Gubashev was also ill-treated may amount to "interference with the work of an investigator with the purpose of preventing a comprehensive, full and objective investigation of the case". 
Amnesty International Europe and Central Asia Director John Dalhuisen said:
"Threatening legal action against those who report a crime as serious as torture is ludicrous.

 

"To ignore serious allegations that torture was used to force confessions would make a complete mockery of Russia's judicial system. 

 

"These allegations, coupled with reports that Zaur Dadaev was only allowed to see a state-appointed lawyer and not the lawyer contracted by his family, raise very serious questions about the fairness of these proceedings and fuels speculation about a possible state-sanctioned cover-up.

 

"What this case needs is not a rapid, politically-expedient resolution but an unambiguous demonstration that the principles of fair trial are fully respected and that justice has been done. This includes investigating all credible allegations of torture and other ill-treatment."