Rohingya boat migrants: Coronavirus 'no excuse' for failing to save refugees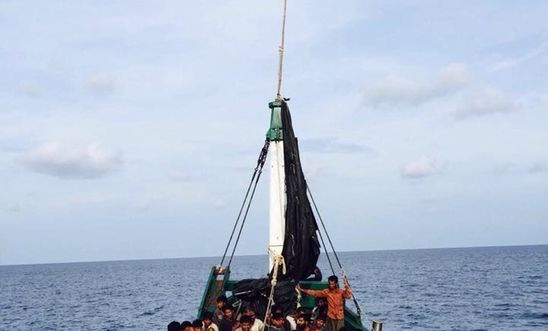 © Thapanee Ietsrichai
Boats thought to be carrying hundreds of Rohingya refugees seen off coasts of Malaysia and southern Thailand in recent days
One boat with nearly 400 refugees recently rescued after two months at sea
'The battle against COVID-19 is no excuse for regional governments to let their seas become graveyards for desperate Rohingya people' - Clare Algar
Amnesty International is calling on governments in Southeast Asia to launch search-and-rescue operations to save hundreds of Rohingya refugees thought to be at sea in dangerous conditions in the region.
Amnesty has received information concerning up to five boats thought to be carrying Rohingya refugees seen off the coasts of Malaysia and southern Thailand in recent days, with hundreds of people believed to be on board the vessels.
Those in the boats are likely to be fleeing persecution in Myanmar or from overcrowded refugee camps in Bangladesh.
Yesterday, citing COVID-19 measures as justification, the Royal Malaysian Navy turned back a boat carrying about 200 Rohingya women, men and children, while reportedly providing food to those on board.
On Wednesday, the Bangladesh Coast Guard rescued 396 Rohingya people from a large boat which had been turned back by the Malaysian authorities and is believed to have been at sea for two months. According to early reports, 32 people on the boat died at sea, but the figure is now thought to be almost double that. UNHCR - the UN refugee agency - has said that the survivors are severely malnourished and dehydrated.
On 5 April, another boat carrying 202 Rohingya people was intercepted by the Malaysian Maritime Enforcement Agency. Its passengers were brought to safety and are now in COVID-19 quarantine.
In response to the coronavirus pandemic, governments in the region have introduced new restrictions at their borders, with Malaysia and Thailand monitoring the movements of boats carrying Rohingya people off their coasts. While Malaysia has brought one vessel to shore, it has pushed several more back. Thailand has not stated whether it has intercepted any boats or come to their rescue.
Clare Algar, Amnesty International's Senior Director for Research, Advocacy and Policy, said:
"The battle against COVID-19 is no excuse for regional governments to let their seas become graveyards for desperate Rohingya people.
"Thailand and Malaysia should immediately dispatch search-and-rescue boats with food, water and medicine to meet the urgent needs of possibly hundreds still at sea."