Refugees Welcome demo at Stormont - refugees, campaigners, churches & unions unite in advance of UN summit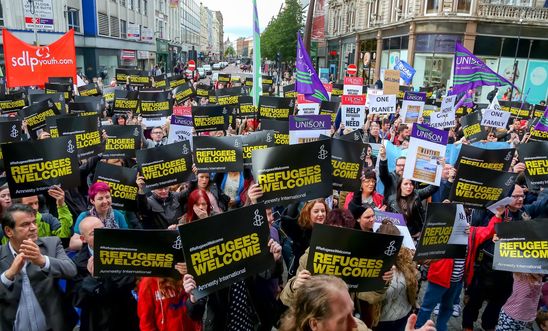 Refugees, campaigners, politicians and representatives of trade unions and faith groups will come together in a 'Refugees Welcome' demonstration at Stormont today (Monday 19 September) to call for a better international response to the refugee crisis.
The demonstration is jointly organised by Amnesty International and the Northern Ireland Community of Refugees and Asylum Seekers (NICRAS) and is supported by a wide range of community organisations, unions and faith groups.
The demonstration comes just hours before world leaders meet in New York to discuss the international community's response to the global refugee crisis. A year ago this week and after a public outcry following the death of toddler Alan Kurdi, David Cameron announced the UK would take in 20,000 Syrian refugees over five years from camps on the conflict-ridden country's borders. Around 250 Syrians have been resettled in Northern Ireland under the scheme. The Syrian conflict alone has created almost 5 million refugees.
According to the UN's refugee agency, so far this year 300,000 people have crossed the Mediterranean to Europe and over 3,200 have died or gone missing. Tens of thousands are stranded in Greece and Italy in appalling living conditions.
Amnesty is calling on governments, particularly from wealthier countries, to commit to resettling significantly more refugees and to provide other legal ways to find safety.
Patrick Corrigan, Amnesty International's Northern Ireland Programme Director, said:
"This demonstration is to show that ordinary people in Northern Ireland care deeply about refugees. Many of those seeking sanctuary have seen their families torn apart and homes destroyed.
"Sadly, to date, the response of the UK government and the international community to the refugee crisis has been wholly inadequate.
"Here in Northern Ireland, people and politicians have mobilised in response to the refugee crisis. But there is more that we can do – both for those affected by the Syrian war but also from other countries of conflict and persecution."
Justin Kouame, chairperson of NICRAS and himself a refugee from the Ivory Coast, said:
"As a refugee, I know how important it is for countries to welcome and offer sanctuary to people fleeing violence and persecution. We're in the middle of a massive refugee crisis and I would like to see Northern Ireland politicians and the international community commit to throwing the same lifeline to far more people who need it."
The Refugees Welcome demonstration will take place at the bottom of the steps of Parliament Buildings, Stormont at 11:30am on Monday 19 September.