Refugees and migrants in Calais and Dunkirk with relatives in UK must be reunited in Britain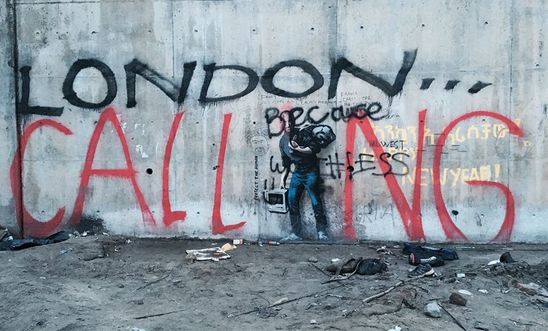 Graffiti in the Jungle camp, Calais © Naomi Westland/Amnesty International
France and the UK must urgently identify people living in the squalid camps in northern France who have relatives in the UK and allow them to be reunited with their families on British soil, Amnesty International said after a recent visit to Calais and Dunkirk.
Around 6,500 refugees and other migrants are living in the squalor and chaos of the two makeshift camps. Following a three-day visit in early February, Amnesty reveals that at least some of them, including accompanied and unaccompanied children, single women at risk of violence, exploitation and trafficking and trauma victims, have good legal claims to be reunited in the UK with their family under EU and UK asylum and immigration law.
However, information services and legal advice are almost non-existent in the Grande-Synthe camp in Dunkirk and inadequate in Calais, so people have no access to the processes for being reunited with relatives and are unaware of their rights and options.
A fifteen-year-old Afghan boy living in the camp in Calais waiting to be reunited with his grandmother and uncle in the UK said:
"I don't know if [making asylum application in France] is possible for me. But even if it's possible to stay in France, I wouldn't want it, I want to be with my family."
Others living in the camps are unable to access legal routes to family reunion because they cannot meet excessive evidential requirements – for example for documentation they do not have because of the circumstances in which they have been forced to flee conflict and persecution -  either insisted upon by the UK Home Office or assumed to be required by their French counterparts. In addition, many people with relatives in the UK are prevented from joining them here under existing rules. These mean that many parents are not permitted to join their refugee children in the UK and adult siblings are among those kept apart.
A pregnant Iraqi woman living in the Grande-Synthe camp, Dunkirk, with her siblings, husband and mother, told Amnesty:
"We saw our father 7 years ago. We talk to him everyday. He is trying to bring us to the UK. A lawyer told our father that he can bring his wife and minor children, but no one else. But even that will apparently take long time."
Many, therefore, find themselves with no choice but to pay smugglers and risk their lives trying to cross the channel by jumping in the back of a lorry, walking through the Eurotunnel or even setting off from the coast in small boats.
Jean François Dubost, Head of the Displaced Persons Department, Amnesty International France, said:
"The French and British authorities have repeatedly argued that no one from the camps should cross the Channel. However, our research shows that many of the refugees and migrants have the right to be reunited with their families, without having to jump on moving trains to do so."
Steve Symonds, Amnesty UK's Refugee Programme Director said:
"Currently, the relevant family reunion regulations are in most cases effectively limited to nuclear family – particularly partners and dependent children – save where the person seeking to join family in the UK is an unaccompanied child.

"This must now be expanded to include extended family members. Doing so would be a means for the UK to share responsibility with France and other European countries affected by the global refugee crisis."
While the primary responsibility to ensure adequate living conditions as well as access to information and legal aid lies with the French authorities, the UK Government cannot be absolved from responsibility. Amnesty International urges both governments to ensure that people living in the camps are given access to appropriate legal advice so that those with relatives in the UK can be reunited with family here.