Qatar: 'time is running out' for promised worker reforms ahead of World Cup - new report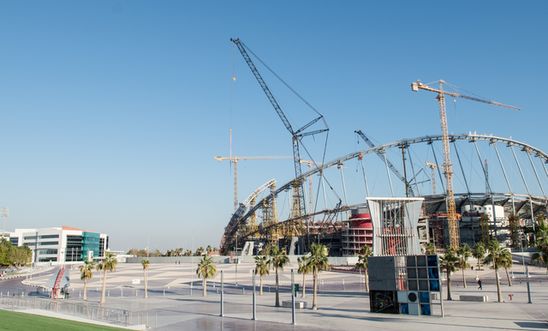 Construction work on the 2022 World Cup's showpiece Khalifa International Stadium © Private
Workers still cannot change jobs without their employers' permission
'Holes in the reforms to date mean many workers are still stuck in harsh conditions' - Stephen Cockburn
With less than four years to go until the 2022 football World Cup, the Qatari authorities are still failing the country's millions of migrant workers despite pledges to tackle widespread labour exploitation in the country, Amnesty International said today.
In a new 19-page report - 'Reality Check: The state of migrant workers' rights with less than four years to go until the Qatar 2022 World Cup' - Amnesty shows how Qatar's high-profile reform process is falling significant short in its supposed effort to fully respect and protect the rights of around two million migrant workers.
In November 2017, Qatar signed an agreement with the UN International Labour Organisation to revise its laws in line with international labour standards. Since then, the authorities have passed new laws aimed at benefiting migrant workers - including a law for domestic workers and for a temporary minimum wage - while setting up new committees to address labour disputes and creating a workers' support and insurance fund. 
The authorities also ended the much-abused requirement for employees to obtain an "exit permit" requiring their employer's permission to be able to leave the country for most migrant workers. 
However, serious limitations in some of the reforms mean many migrant workers in Qatar are still at risk of forced labour, restrictions on their movement and other abuses. 
Under the notorious "kafala" sponsorship system, which remains firmly in place despite partial reforms, workers still cannot change jobs without their employers' permission. They face criminalisation for "absconding" and risk having their passports confiscated. 
The temporary minimum wage is around £155 per month, while new labour courts intended to tackle cases of abuse including non-payment of wages are overwhelmed with cases and hundreds of workers have returned home without justice or compensation. Domestic workers, meanwhile, are still required to obtain an "exit permit" to leave the country, and a weak domestic workers law introduced in 2017 means many remain vulnerable to abuse.
Amnesty is calling on Qatar to fully abolish the abusive kafala" system which, despite a few recent changes, continues to tie workers to unscrupulous employers for up to five years.
Stephen Cockburn, Amnesty International's Deputy Director of Global Issues, said:
"Time is running out if the Qatari authorities want to deliver a legacy we can all cheer - namely a labour system that ends the abuse and misery inflicted upon so many migrant workers every day.
"The Qatari authorities have been taking some important steps to protect labour rights, but much more needs to be done. 

"Holes in the reforms to date mean many workers are still stuck in harsh conditions, vulnerable to exploitation and abuse, while those who return home do so empty-handed, with no compensation and no justice."